Powerade
VIDEO: From Telstar to Brazuca - The Evolution of FIFA World Cup Balls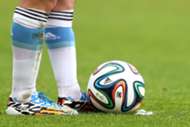 World Cup balls have changed significantly over the past few decades.
Despite being the most important facet of the whole sport, the balls didn't make great evolutionary strides until the Telstar was rolled out for the World Cup in Mexico in 1970.
Its black and white design made it the first ball to be seen clearly on television sets, while its successor, the Telstar Durlast, was made with a polyurethane coating to improve water resistancy.
Editors' Picks
The World Cup's first non-leather ball was the Tango Durlast, introduced in 1986. Further developments saw the Etrusco Unico, a faster and more water-resistant model, used during Italia '90, while USA '94's Questra proved beneficial to players as far as control and grip was concerned.
The World Cup ball got quite the makeover in 2002 when Japan and South Korea presented the Fevernova, while Germany 06's ball, the Teamgeist, was recently described as the roundest ever by designers.
The Jabulani, used in South Africa '10, was known for its unpredictable trajectory when struck fiercely, while the Brazuca, used in Brazil four years ago, was endorsed by superstars such as Lionel Messi and Zinedine Zidane.
So how football's elite take to the Adidas Telstar 18, the official match ball for the extravaganza in Russia.