United States
Jones wants U.S. players testing themselves in Europe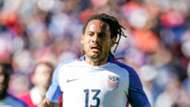 Jermaine Jones has never been one to mince words.
Immediately after the U.S. national team's failure to qualify for the 2018 World Cup with a 2-1 loss to Trinidad & Tobago on Tuesday, the LA Galaxy midfielder took to Twitter and posted about the criticism former coach Jurgen Klinsmann took after losing the first two match of the Hexagonal.  
And everybody talked shit about Jürgen!!! Ridiculous stupid.... man I get too much!!! I feel sorry for the boys!

— Jermaine Jones (@Jermainejunior) October 11, 2017
Friday saw U.S. Soccer part ways with Bruce Arena, the second coaching casualty of the World Cup qualifying cycle for the U.S. and a predictable outcome as the federation searches for answers to the question of how and why this national team group failed. 
While Jones took a much more reasoned tone after hearing of Arena's firing, he offered up plenty of thoughts about the future of the U.S. national team and where he thinks the biggest changes need to be made. 
In a video posted to Instagram Live and YouTube that spans nearly 15 minutes, Jones lays out the issues as he sees them, pointing to the national side needing a non-MLS coach with a "name and a strong personality" and questioning why the younger generation of players have chosen to take the "easy way" by staying in MLS. 
The former Eintracht Frankfurt and Schalke star believes that the players in MLS often don't learn the "easy soccer thinking" at the rate of European players, and that the decreasing number of players coming into the national side from top European leagues makes the job tougher on the U.S. coach.
While Jones heaps praise on Christian Pulisic and players like Schalke youngster Weston McKennie, he pointed to Jordan Morris as an example of a young player who passed up the opportunity to move to Europe in favor of signing with the Seattle Sounders in MLS. 
Jones closes by saying: "We have a couple years now to build something really good, but we have to build it really smart. And for building something smart you have to have somebody on top who is top, and I hope that happens."
You can check out the entire run of what Jones has to say in the video above.