U17 World Cup
U17 World Cup: Santiago Denia underlines Spain's football philosophy - 'Best way to defend is to have the ball'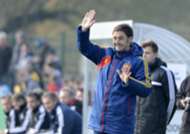 Spain will take on England in the ultimate clash of the FIFA U-17 World Cup 2017 at the Salt Lake Stadium in Kolkata on Saturday.
The final this year is going to be a recap of the Euro U-17 Championship final in May, wherein England lost to Spain on penalties. However, Spain U-17 coach Santiago Denia believes the Englishmen have improved since the defeat.
"I believe England has improved in every aspect. It's clear defensively they are doing great.  Offensively the numbers speak for them."
Borussia Dortmund forward Jadon Sancho had to return to club duty midway through the ongoing U17 World Cup but Denia isn't too bothered. It is, after all, a team game.
"It is clear Sancho is a great player. Great future ahead. But if you look at the numbers they are a great team. It is not about individual players it is about the team."
"Big game for me and the team. It's been two years now we are together. Whatever it takes we will do to take the trophy back. "
Both Denia and defender Hugo Guillamon are adamant about facing England as a team without focusing on just their in-form striker Rhian Brewster.
"He is a good player. My job as a coach is to counter Brewster as a team not individually," said Denia.
"England are more physical. We have faced more physical teams in the tournament. As the coach said we have to defend Brewster as a team." said the Spanish centre-back.
Spain have a chance to grab consecutive trophies following their European Championship victory in May but for Denia, it isn't extra pressure.
"For us no pressure. It is a motivation to do which no other team has done before. Back to back titles."
"In order to win we have to do better than semis.  We are working on that. We have to attack better defend better in order to win. "
England's wingers have been running rampant on the flanks. Manchester City and Chelsea starlets Phil Foden and Hudson-Odoi have complemented Brewster extremely well but Santiago Denia has a plan to tackle the Young Lions.
"Defending all over the pitch and not only on the wings. Best way to defend is to have the ball"