U17 World Cup
U17 World Cup: FIFA President Gianni Infantino - 'We hope that tomorrow India breaches the 1.2 million threshold'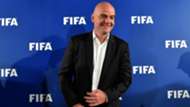 FIFA President Gianni Infantino said that India's successful hosting of the Under-17 World Cup could be a factor in the governing body's decision to award the rights for the Under-20 World Cup to be held in 2019.
Speaking at the sidelines of the FIFA Council meeting in Kolkata on Friday, Infantino said that a decision on the hosting rights for the 2019 tournament can only be made in 2018 and that it was still too early to say anything.
"Certainly, that is an element we will consider but we can take a decision only early next year. For tournaments after 2020, we will take a decision in October 2018," he said.
The FIFA head said that India remains a huge frontier for the development on the sport and that the governing body was doing its best to promote the game in the country.
"The idea is to embed the idea and culture of football into the minds of the people. If FIFA is serious about its idea of developing football around the world, we will have no other choice than to take into account and help the development of Indian football, which houses one-sixth of the population of the world," Infantino remarked.
When asked what his thoughts were on the performance of the hosts in their maiden appearance in any World Cup, the Swiss said that there was still a gulf between India and the top sides but said that the gap was shortening.
"I have watched the Indian U17 team on TV. Yes, there is a gap in terms of quality from the top teams but not that much," he said.
With attendance figures at the World Cup in India on the verge of reaching record-breaking figures, Infantino hoped that with the finals and third-place tie on Saturday, India would overtake the attendance numbers recorded by China during the inaugural edition in 1985.
"We hope that tomorrow India breaches the 1.2 miliion threshold, which will be a nice little achievement," the FIFA head said.