Transfers
Tottenham's Kane and Alli risk highlighted by Lineker as Man Utd and Real Madrid circle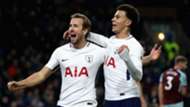 With the likes of Real Madrid and Manchester United keen on Harry Kane and Dele Alli, Gary Lineker says Tottenham must match the ambition of star turns.
The progress made in north London over recent years has helped Spurs to fend off interest from afar, with key men tied to new long-term contracts on a regular basis.
Mauricio Pochettino's side have, however, slipped off the pace a little this season to reignite the speculation surrounding the respective futures of their most saleable assets.
Free-scoring striker Kane has been linked with United and Madrid, while the Blancos are also reported to be closely monitoring fellow England international Alli.
Lineker acknowledges that either could be tempted to jump ship at some stage, with the ex- Spurs striker telling PA Sport on the challenges facing his former club: "I think Tottenham have to decide what they are.
"I think if they want to keep the likes of Kane and Alli, their star players, they'll have to pay the going rate, or get close to it and they'll also have to bring players in and challenge for titles because the great players want to win things, they want to be at places where they can do that.
"I suspect Harry Kane, he'd love that to happen, I think that would be his preference.
"But at the same time, if Tottenham don't show the same ambition perhaps as one or two of the players, then they'll get a little bit disgruntled and they might seek different areas and different places to play, so it's a bit of a watershed moment for Tottenham."
Lineker knows all about the lure of heavyweight outfits in Spain, having linked up with Barcelona while at the peak of his goalscoring prowess.
He ended leaving Camp Nou to head for White Hart, but it could be that others head in the opposite direction in the not too distant future.
A man who netted more than 300 times for club and country over the course of his distinguished playing career, added: "When those big boys come calling, it's quite difficult.
"It depends on your personality and what you want out of life and where you want to go, so we've all got different circumstances so we'll have to wait and see."
For now, Kane and Alli remain fully focused on Tottenham, with Mauricio Pochettino's side sat fifth in the Premier League table two points adrift of Liverpool.
They also have a glamour Champions League last-16 showdown with Italian giants Juventus to prepare for, while their next outing will see them endeavour to keep their FA Cup dreams alive in a fourth round clash with Newport County.