Liga MX
Tigres try, but best effort not enough to see off surging America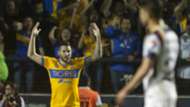 Tigres are the reigning champions of Liga MX and one of the most successful teams in the Americas over the past five years. The knock on the team is that, well, sometimes they just don't seem to care.
Final against rival Monterrey? Yep. The first match of the season against an underwhelming Puebla team or an early afternoon contest against Pumas in Mexico City? Not so much.
Manager Ricardo "Tuca" Ferretti generally expresses disappointment after a game in which his team doesn't realize its full potential, but he's been around long enough to know the deal. An away loss to an average team will be long forgotten by the time the business end of the season rolls around.
Saturday against America, though, Tigres were locked in. Ferretti put out a lineup that differed from the squad he normally uses, handing little-used French defender Timothee Kolodziejczak a start on the left side of a three-man back line. This is a match that mattered in a home venue where Tigres haven't lost since April. Ultimately, they came away with a draw.
The stalemate showed how even these two teams are. After being eliminated by Tigres in the previous Liguilla and sitting at home watching as the two Monterrey-based clubs dueled for the final, America went out and spent to get better. So far it's paid off with winter addition Henry Martin leading the team in scoring and fellow newcomer Jeremy Menez hitting the equalizer from the spot for his second goal of the campaign.
America is an improved team, and any doubt about that was wiped away with Saturday's showing. Even with a different look from Tigres, Las Aguilas were able to find chances getting forward, something that couldn't be said about the team during its four scoreless matches during the Liguilla.
There was a fair amount of confusion about what exactly referee Fernando Guerrero was calling in the 66th minute when America had the ball in the back of the net only to have the goal called back but a penalty awarded. But it ended with Menez converting in the 69th minute and America getting a justified portion of Saturday's spoils.
#NoTeLoPierdas
G⚽⚽⚽L de Jéremy Ménez@TigresOficial 1-1 @ClubAmerica #Jornada6 #Clausura2018 #LIGABancomerMX
⚽ #SienteTuLiga ⚽ #CreandoOportunidades #PorLaEducación #AbrazadosPorElFutbol pic.twitter.com/zLtjkkNYBW

— LIGA Bancomer MX (@LIGABancomerMX) February 11, 2018
"The truth is we played a great game, but there was a great team in front of us," America manager Miguel Herrera said. "We're OK but not happy because I think we came to go out and win the match. But if you come short on these types of plays, it's difficult to be able to win. We played really well. ... We didn't win because we weren't precise and above all missed a penalty.
"You can't miss a penalty. I think what we're lacking is that dagger. We had a great team in front of us in their house. The fans made themselves heard, but I think we're doing well."
The fans always change the atmosphere in El Volcan, and this weekend was no exception. A leading narrative leading up to the game was people talking about why the meeting isn't a "Clasico."
That's true, it's definitely not a traditional rivalry, but there still was something special about the game. An undefeated America hoping to prove it's better than it was the last time the club made the trip north. A Tigres team looking to show that it's still the big cat in the Liga MX jungle. Both teams showed they're among the league's elite.
Tigres tried this weekend. You can't always say that. They didn't come away with all three points despite their best efforts. What does it mean? Add America to the list of Liga MX title favorites — just don't go thinking you can take Tigres off the list because they're outside the top eight.