Diego Costa
Tianjin Quanjian deny rumours of a move for Diego Costa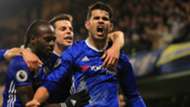 Diego Costa may well be headed to China this summer, but the club he's been linked with, Tianjin Quanjian, has put out a statement to try and calm the speculation. 
The club's billionaire owner, Shu Yuhui, fueled speculation Thursday with his comments saying the Chinese Super League side have secured pre-contract agreements over the transfers of "two or three" big names. 
The Chelsea striker was widely tabbed as one of those big names, with reports claiming that the Brazil-born Spain international was set for a record-breaking move to China. 
However, Tianjin came out to quell the rumours overnight, releasing a statement saying that the club have not made contact with the Chelsea star, and thus, do not have a contract in place. 
"With regard to the widespread rumours that Chelsea's Diego Costa is expected to join Tianjin Quanjian, our club want to clarify that so far, we have not been communicating with Diego Costa regarding the transfer," the statement read.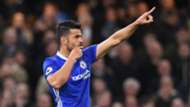 Costa's future has been a cause of constant speculation over the last few months, with the striker doing little to help quite the rumours. 
Just last month the striker told SFR Sport: "I'm happy at Chelsea. But I'm not saying I'm happy with my life in London, because that is something totally different -- the one thing has nothing to do with the other."
Tianjin has also done little, prior to Friday, to downplay the transfer, with the club's owner confirming contact with him during the winter window in a Feburary press conference and saying: "It remains to be seen who will join us in June but I can assure you that the new players will be on the same level as Costa."
While Costa's performances have dipped since the winter window, the striker is still enjoying a fine season with the Blues, having netted 19 Premier League goals including a brace against Southampton as part of a 4-2 win at the end of April. 
The goal return has helped Chelsea into a strong position in the Premier League, with the club holding a four-point advantage over Tottenham at the top of the table with just four matches remaining.