CAF Confederation Cup
'Things will fall into place' - Zikiye optimistic about MFM's Caf Confederation Cup success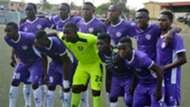 After dropping out of this year's Caf Champions League, Jonathan Zikiye has expressed optimism about MFM's prospect of recording title success in the ongoing Caf Confederation Cup.
The 2017-18 Nigeria Professional Football League runners-up were drawn against Malian outfit Djoliba in the lower inter-club competition's playoff round on Wednesday in Cairo, Egypt.
And the midfielder who played part in his side's Champions League ouster at the expense of Algerian giants MC Alger believes that their experience and lessons so far can push them through.
"Our big loss to MC Alger in our last return leg in the Caf Champions League was not what we bargained for at a team," Zikiye told Goal.
"It was a good draw we got but no opponent is easy. Despite we are out of the Champions League but I still believe we can go far in the Caf Confederation Cup.
"It's going to be a good match [against Djoliba] and another wonderful experience. Like you know this is Caf competition and for them to get to this stage is no mean feat.
"Every game is big for us because we are debutants in the continent and we only must work hard and pray it goes our way.
"Of course, every game is an experience we saw how different caf competition is from Nigeria Professional Football League, especially the Algerian game."
Ahead of the early April's showdown with Malian side, Zikiye urges his side to double up their efforts and hunger for continental glory.
"We are an ambitious team already and that's why we got to this stage. We are only working hard to keep pushing forward.
"Our target was to get to the [CCL] group stage from inception but now we still have a lifeline with this game to get into the [CCC] group," he continued.
"We just have to double our efforts and keep our focus on the set target till we get it right.
"Our team is filled with young players who have passion and hunger for success so I believe things will fall into place this time."