The story of Chelsea's failed attempt to sign Roma warrior Nainggolan
After agreeing to join Chelsea in April 2016, Antonio Conte made clear that Radja Nainggolan was his main transfer target.
The former Italy manager had instructed Chelsea over a number of targets during the contract negotiation process to replace Guus Hiddink at the helm and notably included the Belgian, who will line up against Chelsea on Wednesday in the Champions League. 
Chelsea met Roma's director of sport Walter Sabatini just three days after appointing Conte and began their pursuit of the combative midfielder. Roma had to offload a star player due to Financial Fair Play (FFP) rules and were considering selling to Chelsea, who were also interested in defender Antonio Rudiger.
Rudiger tore his anterior cruciate ligament while at a training camp with the German national team ahead of Euro 2016, which delayed his move for a season. Nainggolan's proposed €31 million move then collapsed as he was unsure of trading Serie A for the Premier League, and felt at home in Italy's capital city. 
Miralem Pjanic then joined Juventus on a five-year contract for a fee of €32m, ending his five-year stint with Roma and satisfying their FFP concerns. No further players needed to be sold after Pjanic's departure. 
Chelsea instead turned to N'Golo Kante, who they signed for €38m (£32m) in July. The ex-Leicester City star went on to be named the best player in the Premier League last season after moving to west London and is now being coached into improving the attacking side of his game. 
Kante is more defensive in comparison to Nainggolan, but he has worked to improve his passing and shooting at Cobham Training Centre. Last season, Nainggolan had more than three times as many shots on goal than Kante had, but Conte has utilised his French midfielder further up the pitch in two recent matches. Against Atletico Madrid and Manchester City, Conte instructed Kante to press high up the pitch and influence the attacking phase of play. 
This indicates that Nainggolan has missed his chance to move to Stamford Bridge and he has since penned a new deal that ties him to Roma until 2021. Chelsea also haven't signed a player who is 30 or older since Yossi Benayoun in 2010, and Nainggolan turns 30 in May. 
In his press conference ahead of Wednesday's Champions League match, Conte took the unprecedented step of admitting that Nainggolan was a transfer target that Chelsea failed to sign.
"In the past, yes, we tried to buy him," Conte confirmed at Cobham Training Ground. "But now Nainggolan is Roma's player and I have great respect for him and for Roma, and also for my players.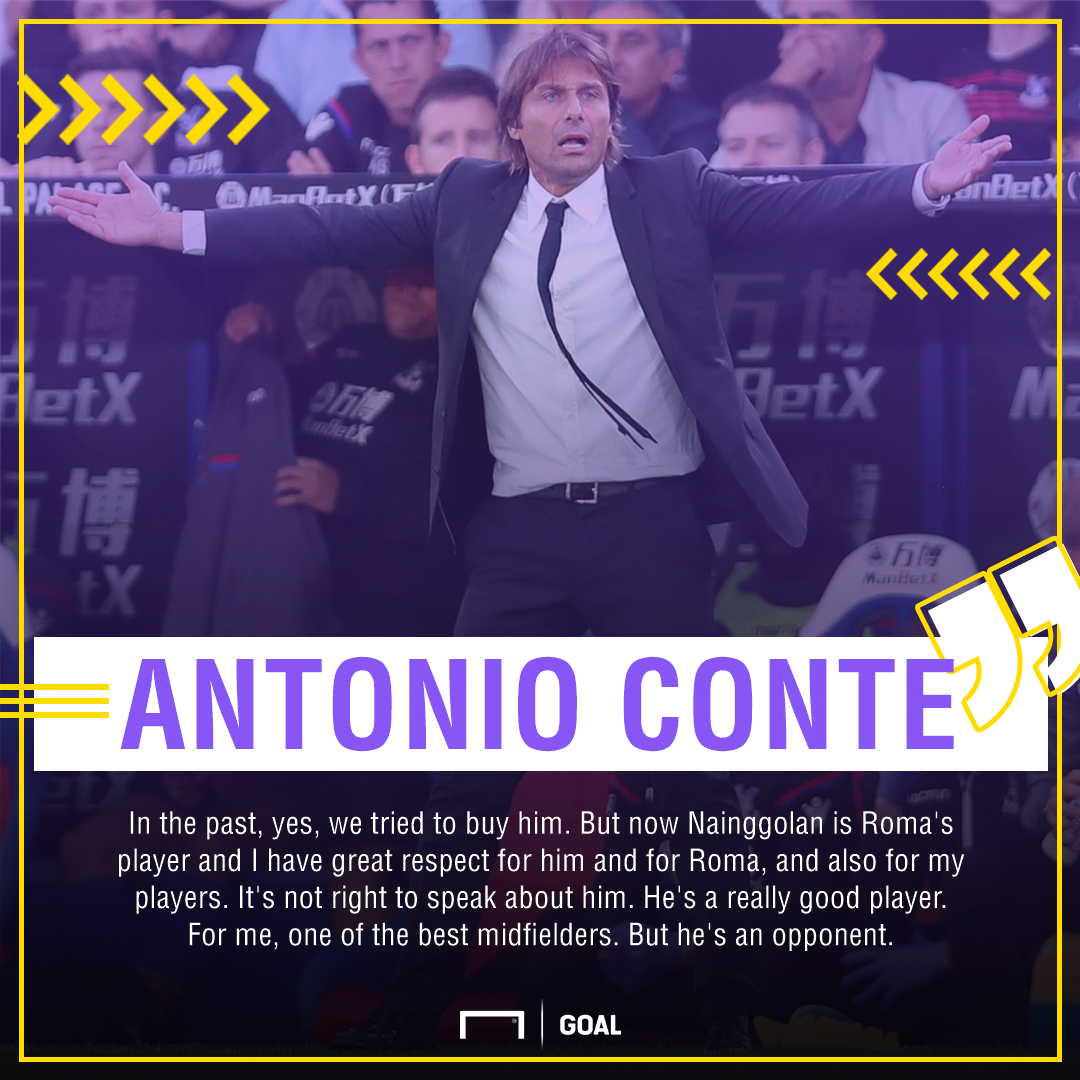 "It's not right to speak about him. He's a really good player. For me, one of the best midfielders. But he's an opponent."
Manchester United also reportedly followed up Chelsea's interest, while Inter opened talks ahead of the Belgian signing a new deal at the Stadio Olimpico.
The 29-year-old opened up about Conte's interest in him on Italian TV recently. Conte is thought to have gone as far as to speak with Nainggolan on the phone in 2016, but he never got his man. 
"I haven't heard from Conte this year," he told Italian TV show Tiki Taka. "I think he's probably still a little angry with me about last year. At least I think he is, I don't know.
"As I've said before, I get very fond of places and if you earn a certain respect, it's because you've given them something. I am happy in Rome, I like playing where I do now and changing clubs often is not my style. I showed love."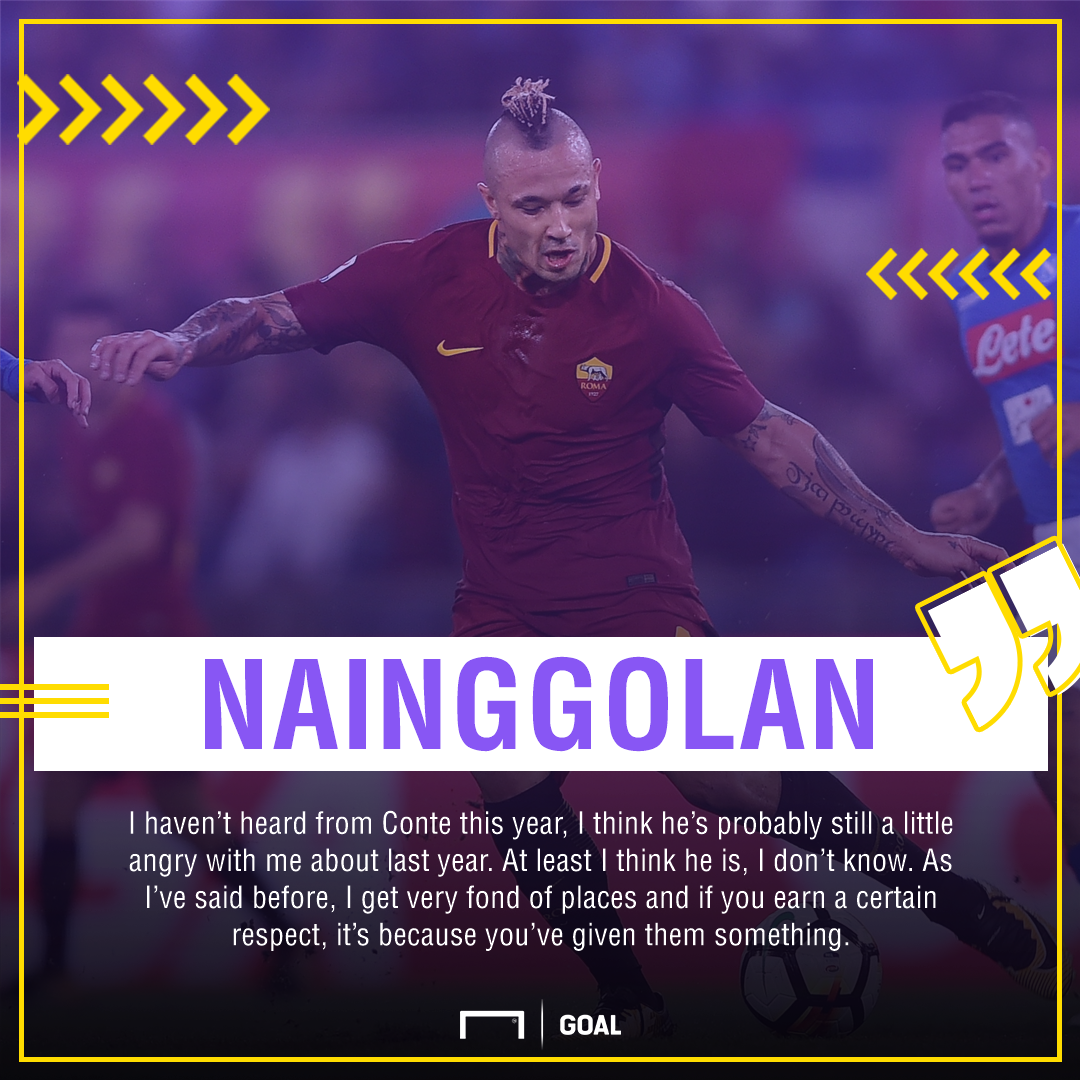 Chelsea went back in to secure Rudiger from Roma for €38m at the second time of asking this summer but Nainggolan could well be set to end his career with the Giallorossi.
Chelsea could argue that it was a blessing in disguise though, as Kante seems to be getting better and better as his career goes on. His contribution last season earned him the PFA Player of the Year award, becoming the most defensive player to win the award since John Terry in 2005. 
On Wednesday, Conte will get a firsthand look at the player he failed to land. Nainggolan may not ever move to Chelsea, but he has the chance to show the Blues what they missed out on.