Premier League
Tanzanian league makes Kotoko's Annan sad about Ghana's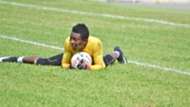 Asante Kotoko goalkeeper Felix Annan has bemoaned the level of organisation of the Ghana Premier League, comparing it to a 'superior' Tanzanian topflight.
The Ghanaian elite division is currently faced with troubles, having been indefinitely suspended due to a standing impasse of football in the country. It adds to a list of problems concerning infrastructure, quality of play, officiating, sponsorship and an exodus of players.
Annan was speaking on the back of his recent trip to Tanzania, where Kotoko faced Simba FC in an international friendly. 
"When I look at how organised the Tanzanian league is and when I compare their facilities to ours, I feel sad," Annan told Graphic Sports. 
"It is obvious that we are lagging behind in terms of football development in Ghana. 
"There is a lot more to be done as far as development is concerned in Ghana."
Annan also made a plea to the powers that could resolve all issues holding up the local topflight, which has been off since June 6.
"I really missed our league after [playing in] the match [against Simba]," the shot-stopper added. 
"In fact, I remembered my achievements, especially in the last league, and I wish that those at the helm of affairs fix the situation to bring back our league."
Annan is currently rated as one of the best goalkeepers on the local scene. 
In last week's friendly against Simba, he stopped a penalty to help the Porcupine Warriors salvage a 1-1 draw.