Liverpool
Our Tampines Hub a hotbed of passion as football fans throng the venue to catch Champions League final screening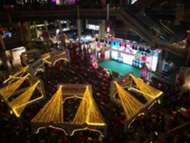 If anyone says that Singaporeans don't have a passion for football, they probably forgot to swing by Our Tampines Hub to catch the live screening of the Champions League final between Liverpool and Real Madrid. In the wee hours of the morning football fans of the two clubs filled the venue to create an electrifying atmosphere that could rival the one in Kyiv.
Almost every corner of the venue had fans who donned a jersey in favour of the club they supported. Moreover some came as early as 10pm despite kick-off being at 2:45am just so that they could get a good seat to cheer on their team. Surprisingly, more people kept making their way in even as the game started.
Fans and even neutrals soaked up the atmosphere which was filled with joy and heartache. It was truly an event which brought Singaporeans of all backgrounds together. As Real Madrid opened the scoring, the majority of Liverpool fans let out a wave of grimace hoping that their team would respond. And when the Reds responded, Our Tampines Hub erupted with volumes that could be heard from Tampines all the way to remote Tuas.
The joy wouldn't last long for Reds supporters however as the Spanish giants would go on to win with a fine display from Gareth Bale. Above all it was truly heartening to see Singaporeans come out and show their passion for the game. It was also a great platform for community bonding highlighting the powers of football as a sport, its ability to unite, and to bridge gaps within society. As the night wore on, many agreed that regardless of the score it was all about spending time with friends and family while having a good time.
"The result is secondary. But significantly I just want to have a good time and to be able to laugh and just enjoy a game of football. I do hope Madrid win though," said Wira Satria, an attendee of the event.
Moving forward there is no doubt that Singaporeans will want more of such events taking place often. Singapore is a football loving country. Passion for the game is evident and many are willing to go the extra mile to show their support for the sport. Let's just hope the right organisations take note because if they do, we might start seeing such crowds transferred to our local league.