Euro 2016
Talking Point: Is Roy Hodgson the right man to take England forward?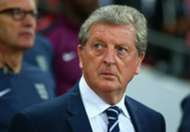 By Greg Stobart

If Roy Hodgson is angrily swearing today, it will only be to ask himself why England could not play at the World Cup with the sort of speed and fluidity with which they brushed aside Switzerland in their Euro 2016 qualifying opener on Monday night.

Two second-half goals from new Arsenal signing Danny Welbeck in Basel effectively sealed England's place in France with nine games to spare thanks to Uefa's expansion of the tournament. It would be virtually impossible not to progress from a group completed by San Marino, Estonia, Lithuania and Slovenia.

Back in the land where he made his name as a manager, Hodgson made the brave decisions and must be wondering why his side could not have played in such a manner during a miserable and winless World Cup campaign in Brazil.


The Swiss army knives were being sharpened for the 67-year-old and he looked to be feeling the pressure of the summer's disaster with sweary outbursts and irritable press conferences after the 1-0 friendly win over Norway last Friday.
But this win against Switzerland - no mugs, they are ninth in Fifa's world rankings - and an above average performance have ensured, if there were any doubts, that Hodgson has earned the chance to lead England at Euro 2016.
Whether he remains the right man in the longer term remains to be seen. This is the first time that Hodgson has ever showed a capacity to get the most out of an exciting group of young players.
If there was a more dynamic coach available, Hodgson might have found himself under more pressure following England's worst ever performance at a major tournament. With a lack of alternatives, it is down to him to make the necessary changes and at least he has shown a willingness to adapt his methods.
Switzerland were rolled over as Hodgson scrapped his archaic 4-4-2 and opted to play in a diamond formation. Often criticised for his old school and traditional methods, he deserves praise for selecting a side and system that played to the Three Lions' attacking strengths.
He might have Brendan Rodgers to thank, because principle among those threats is Raheem Sterling.
Still 19 and not 20 until December, the
Liverpool
man is already England's most important player. Having been strangled out wide in Brazil and against Norway for 70-odd minutes, Sterling was selected in his best position at the tip of the midfield diamond in Basel.
It worked. Sterling's trickery, speed, movement and eye for a pass in central areas meant that England constantly threatened, especially when they were able to turn over possession and quickly counter-attack.
After several warnings - England created a number of chances - it was Sterling who created the opener for Welbeck in the 58th minute.
It was a swift move, the kind of goal we have seen the likes of
Germany
score regularly. Wayne Rooney, also more involved as an out-and-out striker, broke and fed Sterling, who played a perfect left-footed ball across the six-yard box for Welbeck to shin home from close range.
From then on, the visitors were able to control the game and threaten on the break as Switzerland committed more men forward in search of an equaliser.
In the dying moments, it was Sterling who launched the counter-attack, finding substitute Rickie Lambert who in turn teed up Welbeck to coolly seal the victory and a performance from a central role that will excite Arsenal supporters.
It was not the perfect performance, but it was well above average. And that is a decent starting point for Hodgson and the team. Since his appointment shortly before Euro 2012, Hodgson has seen public expectations fall through the floor and the apathy was reflected by a record low crowd of 40,181 for the England team at Wembley last Friday.
Much of the frustration stems for the fact that while this is no golden generation, the players are far more talented than they have ever shown under Hodgson.
It should be an exciting time to support England with Sterling, Welbeck, Ross Barkley, Daniel Sturridge and Alex Oxlade-Chamberlain the kind of quick and technically skillful modern players that we have all been looking for. Throw in the likes of Luke Shaw at left-back and John Stones at the centre-back, and there is cause for cautious optimism if Hodgson can stay brave and play to his players' strengths.
He will identify plenty of issues that need some work. England looked shaky at the back - particularly Phil Jones in central defence - and would have been punished by an elite team. In midfield, Jack Wilshere looked uncomfortable in a sitting role as he held back his natural instinct to dictate attacks.
But Hodgson now has, essentially, 21 months to fine tune the team before England's next meaningful test at the European Championships. The World Cup was a disaster, but Monday was a good night for Hodgson and England.
Hodgson has grasped what he needs to do. He now deserves to see it through until the end of Euro 2016.