A-League
Sydney FC 2018/19 preview: Are the Sky Blues destined to struggle?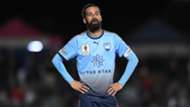 No Graham Arnold. No Golden Boot winner. No reigning Johnny Warren medallist. No Allianz Stadium. 
After two seasons of A-League dominance, Sydney FC might finally be about to crash back down to earth as the club attempts to juggle a number of big changes.
From the departure of Arnold, along with star players Bobo and Adrian Mierzejewski, to the fact the Sky Blues will be splitting home games across three different stadiums, it will take some serious effort to avoid a step backwards. 
Can Steve Corica fill Graham Arnold's shoes?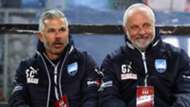 New Sydney FC coach Steve Corica will be the man responsible for attempting to push the Sky Blues forwards, but must find a way to emerge from his predecessors shadow quickly.
After a bumpy start to life as a coach, Arnold came of age at the Sky Blues and earned a shot at Socceroos redemption in the process.
Corica has been Arnold's right-hand man for some time and appears to be a similar manager in a lot of respects. While Arnold's approach clearly worked, Corica must look to build upon, and not simply mimic, what was done before him. 
Though his first official senior coaching appointment, Corica isn't short of experience having been with the club as an assistant since 2010 and also filled in as caretaker briefly in 2012.
Socceroo and former Sydney FC midfielder Brett Emerton played under Corica when he was an assistant and has backed him to make a smooth transition.
"His knowledge of the game is unquestioned," Emerton told Goal.
"I think he'll transition well. Always difficult going from an assistant to a main man, so it's going to be an interesting few months ahead to see how that works out."
Corica certainly has some big shoes to fill and must do so without some key players.
No Bobo, big problems?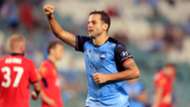 Bobo set an A-League record last season after scoring a staggering 27 goals across 28 league appearances, and that's not to mention the eight times he also found the back of the net in the FFA Cup.
Back playing in Turkey for Alanyaspor, the Brazilian will take some replacing in front of goal.
Fernando Torres was a target, but Sydney FC have ultimately settled on former Bolton striker Adam Le Fondre. 
Le Fondre has hit the ground running in pre-season since arriving from England and appears to be a poacher in the vein of Bobo, but with more versatility in the final third. 
While he scored just 13 goals across his past two seasons in the Championship, Le Fondre isn't a man short on confidence.
"I definitely back myself to score goals, I back myself to score goals anywhere," Le Fondre told the Daily Football Show.
"I know how impressive his (Bobo's) goal-scoring record was here and how well he did last season, but I'm not scared of that.
"I'm relishing the prospect of replicating that and maybe even bettering that if I can."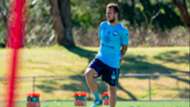 Joining Bobo on the departures list was also Johnny Warren medalist Mierzejewski, who himself scored 13 times and picked up nine assists during his electric spell in the A-League. 
In his place, Sydney FC have done very well to bring in Ajax attacker Siem de Jong on loan and at 29, is still in his prime.
Though still quite young, de Jong has struggled with injuries having been sidelined for a total of 451 days since 2013, according to TransferMarkt. 
When fit however, he's a player more than capable of firing, having scored every 213 minutes in the Eredivisie. 
On paper, Le Fondre and de Jong look capable of replacing Bobo and Mierzejewski. On the pitch however, will be the real test with their ability to fill two gaping voids vital to the season ahead for the Sky Blues.
One vital constant in the side is Milos Ninkovic, who has been the heartbeat of the side over the past two seasons and will be key once again. 
Stadium limbo set to test fan base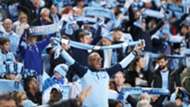 Despite dominating the A-League again last season, Sydney FC had their lowest average home attendance since 2011/12.
Allianz Stadium was worryingly empty at times and with that venue now being rebuilt, the Sky Blues fan base could be further scattered as they play out of three different stadiums throughout the season.
Having played at Allianz in front of vocal support, Emerton conceded the stadium limbo will test the club.
"I think playing out of three stadiums throughout the season is going to be difficult," he said. 
"Home ground advantage is always very important, you need to create a fortress. That's a definitely a disadvantage of Sydney FC this year."
Home games will be played across Kogarah, Leichhardt and the Sydney Cricket Ground with Western Sydney Wanderers proof of how difficult life can be not having your own stadium.
Splitting their games between ANZ and Spotless Stadium for the second season running, the Wanderers average attendance of 11,924 last season was their lowest in history and 6,000 fewer than the campaign before. 
Poor results didn't help convince Western Sydney fans to turn up and Sydney FC could be set for a similar shortfall should they fail to live up to the lofty heights of previous seasons. 
Predicted finish: 4th 
Star player: Adam Le Fondre
Breakout player: Trent Buhagiar