AIFF Super Cup
Super Cup 2019: Carles Cuadrat - Bengaluru strikers lost the battle with Chennai City's goalkeeper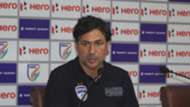 Despite playing the same XI that won Bengaluru the Indian Super League (ISL) final last month, the Blues were handed a 2-1 defeat by Chennai City, knocking them out in the quarter final of the 2019 Super Cup.

"We tried a lot of times. We had plenty goal scoring opportunities where our strikers generally convert but not today. We only scored from a set piece. The other team stuck to the tactics but my players made two mistakes, giving them chances to score their two goals. They beat us so we have to congratulate them," Bengaluru head coach Carles Cuadrat said after their exit from the competiton on Thursday.

Defending champions Bengaluru would rue the penalty kick that Sunil Chhetri missed early in the second half. "It is football, it happens. I had told my players that if we scored in the beginning of the second half then we could have the game for ourselves. It could have been 1-1.

"When they made it 2-0, it became easy for them to defend and waste time, normal things in football. We could have made it 2-2 or even 3-2 but our strikers lost the battle with the goalkeeper. Nothing to say," Cuadrat explained.

Further praising the Chennai City goalkeeper Mauro Boerchio, who made other incredible saves, Cuadrat complimented, "He has been brilliant doing his job. You've got to congratulate him."

The 2-1 scoreline was similar to the last time these sides faced each other, in a pre-season friendly. However, Cuadrat argued, "To be honest, we have been superior over them in the two matches we have played against them this season.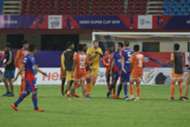 "But, for what it is worth, it means nothing. I have to say congratulations, their plan worked well and we have to learn from their game."
When asked if his players were fatigued after a long season, the Spaniard answered in the negative, "The players who had cramps were from their team, not ours. I went up to the Spanish players (at Chennai City) and told them to win the competition after the game. They said, we are very tired and it will not be easy.
"We were superior physically but we were not smart enough to take advantage of little decisions as we had enough chances to win the game."
After the game, Bengaluru striker Miku and City goalkeeper Boerchio were involved in a war of words. While explaining the incident, Cuadrat alledged the Italian shot stopper of being unchivalrous.
"The goalkeeper had a wonderful game. But, he has to know how to win a game. As in, he was not nice with our players. That is what happened," he concluded.