Seychelles v South Africa
South Africa's Baxter reveals Rohr's warning ahead of 'frustrating' Seychelles draw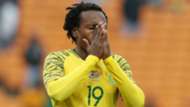 South Africa coach Stuart Baxter revealed that his Nigerian counterpart Gernot Rohr had warned about playing condition at Stade Linite before his side took on Seychelles in the second leg of their African Cup of Nations qualifying doubleheader.
Bafana Bafana, days after thrashing the minnows 6-0, were held to an away goalless stalemate much to the frustration of their gaffer who pinpointed several mitigating factors such as officiating, bad playing surface and luck.
Nigeria had played out a 3-0 victory on the same pitch last month and Baxter revealed Rohr's advice prior to their visit to the archipelago nation.
"A combination of the pitch and some unbelievable time wasting and cheating by the opponents and a very, very poor refereeing performance and us not taking advantage of the chances we created, that's how you know you can get that result," Baxter said after the game.
"Immediately after the game, I was frustrated and angry with the way the game panned out.
"I met the Nigerian coach in London and he told me that the pitch was the worst he'd ever played on in a competitive game and I agree with him and that's not an excuse because we still did enough to win the game."
"We had a clear penalty turned down, Nigeria got a penalty. We hit the crossbar and it came down and bounced out and they hit the crossbar and it hit the goalkeeper on the neck and went in the net. Those are the margins. You need a bit of luck on that pitch."
The shock result saw South Africa suffer an unprecedented setback as Nigeria overtook them at the summit of Group E after recording wins in their doubleheader clash with Libya. Both sides clash on November 16.