CAF U20 Women's Championship
South Africa confirm venue, date for Nigeria U20 women clash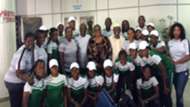 South Africa will play the final round, first leg of the U20 Women's World Cup against Nigeria at the Polokwane Stadium on January 13.
South African Football Association made the confirmation on the heels of allegations by Nigeria Football Federation that it was kept in the dark over details of the match.
Earlier, Nigeria's head of women's football Ruth David has expressed disappointment at Safa's inability to secure official responses on when and where the match will hold.
Editors' Picks
"Our match with South Africa is coming next week (January 12-14), but we (Nigeria Football Federation)  still haven't heard from them on when the match is scheduled to be played," Ruth told Goal.
"We have written them many times in efforts to have an official communication about the first leg qualifying match for the U20 Women's World Cup next in Johannesburg as we need that information to actually plan our logistics, especially flight schedules.
"We indeed shocked by the reluctance and delayed reply to our request and wish to express our disappointment over the unexpected development as we wait for their response."
But Safa spokesman Dominic Chimhavi blamed the delayed reply on their absence from office while confirming the match arrangements.
"Please note the match will be played in Polokwane on 13 January 2017 at 15:00 at Old Peter Mokaba Stadium - on natural grass," Chimhavi told Goal.
"I will communicate the accommodation details. Thanks for the understanding, noting we have been out of office. We will be officially back at work on Monday," he disclosed.
The eventual winner over two legs will represent Africa at the Fifa U20 Women's World Cup in France slated between August 5-24, 2018.