Chris Smalling
Smalling: I won't be a passenger for England at Euro 2016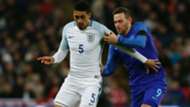 Manchester United defender Chris Smalling expects to play a key role in England's defence at Euro 2016.
The 26-year-old has been crucial to the Red Devils' efforts despite another lacklustre season for the club as a whole.
Smalling's efforts at the back have helped United to build the Premier League's second best defensive record.
Editors' Picks
And he is expecting that to be reciprocated with a big role for England after describing himself as a "passenger" at the 2014 World Cup in Brazil.
"I have bigger expectations this time," Smalling told reporters. "Very much so. Hopefully I will be coming off a full season and one where I felt I contributed.
"I feel I have put my name right at the forefront and after playing the last two England games I hope I can keep that shirt and carry on my good form into the summer.
---


READ MORE

| 
I have not lived up to my own expectations, says Smalling
---
"I fully expect to be a part of it if I can keep this up because club form will get you a starting place. Going into the World Cup, it was a very stop-start season for me.
"It wasn't a full consistent run of matches so you cannot necessarily expect to start in a major tournament, but this year is different.
"I have played consistently and I expect to play a good part in France."
Smalling said staying injury free has played a big part in his displays this season.
"I am happier with myself than I was two years ago. I have stayed injury free and that has enabled my confidence to grow," he added.
"It has helped me to churn out the games and that is something I enjoy. Nobody wants to train every day so the more games the better. It is nice to hear yourself being compared to great players.
"Everyone has their own traits but if you are being compared to players like Rio Ferdinand then you must be doing something well and hopefully I can keep that going."