League Cup
Siphiwe Tshabalala downplays Durban factor for Kaizer Chiefs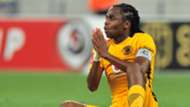 Kaizer Chiefs midfielder Siphiwe Tshabalala believes they are not giving away an advantage to AmaZulu by taking their Last 16 tie to Durban, where the former are based.
"We are not giving away our advantage. Durban is our home away from home. For them, they might take it as a positive that they won't get to travel but still be playing at home," Tshabalala told the media.
The last time Chiefs played in KZN they lost to Baroka FC in a PSL match a month ago.
 "I don't see us struggling on Saturday because of altitude. We played in Durban in the past and we adapted well," he continued.
"So it's one of those games where we have to go back to Durban and do the business. The last time we were there, things did not work out right," Tshabalala added.
The 33-year-old has surprisingly been recalled to the national team ahead of their crunch 2018 Fifa World Cup qualifiers against Senegal.
"I am really happy with the call-up. For me, it's an honour to be back in the national team. It's not just about going there to add numbers. It's about going there to add value," he said.
"I trust that my knowledge and the experience that I have gained over the years will help the team qualify (for the World Cup).
"I have said it before that I still wanted to play for the national team and I will continue working hard. I know that if I did well at Kaizer Chiefs, it would enhance my chances of going back to the national team. I am happy that I have finally got the call-up," Tshabalala concluded.