Liverpool
'Show some balls!' - Klopp reveals inspiration from James Bond, Robin Hood & Rocky Balboa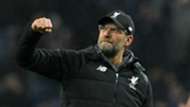 Jurgen Klopp has revealed he is inspired by some of fiction's greatest characters, including Robin Hood, Rocky Balboa and James Bond.
The Liverpool manager has guided the Reds to third in the Premier League table this season, two points behind second-placed Manchester United but 18 behind leaders Manchester City.
Of course, Klopp and City manager Guardiola will lock horns in the Champions League quarter-finals in an all-British clash, and it is perhaps unsurprising that Klopp is inspired by two of the most famous underdogs in novels and cinema.
Sylvester Stallone's Rocky repeatedly upset the odds to win multiple fictional boxing championships, while Robin Hood stole from the rich to give to the poor, and Klopp has spoken of the influence the two characters have had on him.
Talking to Graham Hunter on the Scottish journalist's podcast, he recalled a team-talk at Borussia Dortmund, saying: "I'm inspired by Rocky Balboa, one of my best meetings, I thought, was with Dortmund, before we played Bayern Munich and I spoke about Rocky Four, Ivan Drago, having everything, all the technology, and we have Rocky Balboa in Siberia with all these old fashioned tools and things like that, the gym was a stable and after three or four minutes I was really on fire.
"I see dead eyes and stop. 'Who knows Rocky?' Only two players showed up. The rest were too young! Okay, we have to start again...
"I'm inspired by Robin Hood. In my youth I read thousands of books because I loved the stories, I'm inspired by all of that. Boris Becker wins Wimbledon at the same age as me, it's possible. Something special is possible.
"But it would never have been possible as a kid, I loved football but I knew I could never be Lothar Matthaus, no chance, but I loved it still. I wanted to do it as good as I could do it, my target as a manager is to be the best manager I can be, not the best manager of the world, I've no clue how that works."
Liverpool fan Daniel Craig portrays 007, starring in Casino Royale, Quantum of Solace, Skyfall and Spectre, and has regularly been spotted at Anfield watching Klopp's men.
And Klopp has revealed that it is Bond's code that inspires him, even claiming that he hopes he would emulate the secret agent in an extreme situation.
"He's a good-looking guy, Roger Moore, Pierce Brosnan, Sean Connery, but now we have a big, big Liverpool fan, of course he's the best," he joked.
"James Bond is a fantastic guy, everyone likes him. He has his own rules but he's allowed to kill while the rest of us are not allowed to kill. It's normal. I don't believe in killing people but in these movies, it's not a really good person involved in those stories.
"It's fiction so it's okay and he was always ready to sacrifice himself, which is a very important thing. Before everything else he would sacrifice himself, I like that.
"That's how I understand the father role in families, I would do it, in extreme situations, I hope. It's romantic, it's how it should be. Show balls in an opportunity like that, and James Bond shows balls."