Daniel Sturridge
Shock West Brom switch at the centre of Sturridge betting probe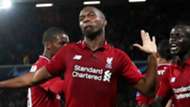 Daniel Sturridge's loan move from West Brom to Liverpool back in January will form a key part of the FA's investigation into alleged breaches of betting rules by the Reds striker.
Sturridge was charged with misconduct on Monday and has until November 20 to respond. A Liverpool spokesperson said the player would continue to give his "full and unequivocal co-operation" to the ongoing inquiry.
The FA charges, pointedly, refer to "the period of January 2018", when Sturridge left Liverpool on a four-month loan deal. Goal understands that a number of bets surrounding that move are under investigation, and if found guilty of breaching rules then Sturridge could face a hefty fine and/or suspension.
Sturridge, Liverpool said, has insisted he has "never gambled on football", but the FA's rules on betting, which were tightened in 2014, state that participants cannot provide information to others which could then be used for gambling purposes.
Rule E8(1)(b) states that: "where a participant provides to any other person any information relating to football which the participant has obtained by virtue of his or her position within the game and which is not publicly available at that time, the participant shall be in breach of this Rule where any of that information is used by that other person for, or in relation to, betting."
Sturridge joined West Brom on January 29 after weeks of speculation. The Baggies, who were battling relegation at the time, were seen as something of a surprise choice, given interest in the England international from Sevilla, Inter and Newcastle earlier in the month.
Odds on him moving to the Hawthorns are understood to have tumbled from as high as 50/1 to 5/2 in the 24 hours leading up to the move, with a series of wagers placed on the deal.
Sturridge is also alleged to have breached Rule E8(1)(a), which states: "a participant shall not bet, either directly or indirectly, or instruct, permit, cause or enable any person to bet on – (i) the result, progress, conduct or any other aspect of, or occurrence in or in connection with, a football match or competition; or (ii) any other matter concerning or related to football anywhere in the world, including, for example and without limitation, the transfer of players, employment of managers, team selection or disciplinary matters."
Liverpool say they will make no further comment on the case until it has been concluded, with Sturridge considering his options ahead of the 6pm deadline on November 20.
A number of players – Fleetwood Town manager Joey Barton being the most high profile – have fallen foul of the FA's strict anti-betting rules. Barton was banned for 13 months in 2017 after being found to have placed 1,260 bets on football over a 10-year period.
Others, such as Crystal Palace's Andros Townsend, Bournemouth's Dan Gosling and former Manchester City defender Martin Demichelis, have been given fines and/or backdated bans, while Lincoln City's Bradley Wood was banned for six years after being found guilty of spot-fixing in two FA Cup games in 2016-17.
There is no suggestion whatsoever that Sturridge has done anything of that nature, but the charge comes at a bad time for the 29-year-old, who is in the final year of his Liverpool contract and is battling to remain a part of Jurgen Klopp's plans going forward. Sturridge has scored four times in four starts this season, but now faces an uncertain future as the FA's investigation continues.