Shahrel Fikri Fauzi
Shahrel Fikri extends contract with PKNP FC until 2020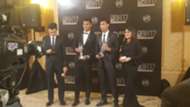 Having been rumoured to be on his way out of PKNP, in a surprising turn of events, the club has just announced that Shahrel have instead extended his contract with the team until 2020.
A whole host of clubs have been linked with the signature of Shahrel including Perak, Terengganu and Johor Darul Ta'zim after the end fo the 2017 domestic season.
Editors' Picks
Even Shahrel himself admitted to the press recently that he was looking for a move to further improve his game. 
Recently awarded the best striker title in the 2017 National Football Awards, Shahrel was instrumental in a successful season for PKNP in 2017.
With PKNP having promoted to the Super League, Shahrel will still be able to ply his trade in the highest Malaysian league without changing clubs.
Still nursing an injury and working his way back to fitness, this latest announcement while clear, does not look like the end of the Shahrel transfer will he/won't he saga.
It remains to be seen if PKNP has now protected themselves a bit more with this new contract by adding a buy-out clause in the contract.