Transfers
Sammy Troughton backs former Kaizer Chiefs striker Siphelele Mthembu to come good for Free State Stars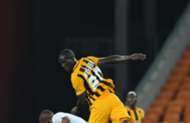 Free State Stars coach Sammy Troughton is optimistic that former Kaizer Chiefs striker Siphelele Mthembu can do the job for them after signing a one-year deal.
"In his situation, Mthembu just needs to get his confidence and match fitness up to scratch, but I'm confident he can do the job for Free State Stars," Troughton told Goal.
Troughton admits that Mthembu could be up for selection when they host Bidvest Wits on Wednesday after impressing on his debut against AmaZulu where they went down 1-0 on Saturday.
"We will still decide following our training sessions whether to play him or not. He played 55 minutes over the weekend and did well. So, we'll see whether he is in contention for selection for the game," Troughton said.
In addition to Mthembu, they are also looking at another former Chiefs striker in Edward Manqele.
Troughton says they are still at a cross-road whether to sign him or not after he picked up an injury during training two weeks ago.
"Edward is unfortunately injured. He hasn't signed yet because we are still assessing him. He picked up an injury two weeks ago. So, that put him back a bit. We have since decided to put him on the back-burner for the time being because he still isn't up to scratch," Troughton said.