World Cup
Who is Mario Fernandes? Russia's Brazilian World Cup star who overcame depression and snubbed Real Madrid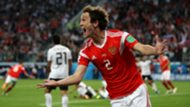 When you're a young footballer who has just signed his first contract with a club, it is very easy to give in to temptations: nightclubs, girls, drugs and a disregard for everyone around you. For Brazilian players, this can even happen later in their careers. Cicinho, Adriano and other Brazilian stars are a testament to this. Even the magical Ronaldinho was suckered in by the parties, and his mana quickly ran out.
But when we look at CSKA and Russia wing-back Mario Fernandes, one of the best in his position at the World Cup, it seems like he must have been a dependable and focused footballer right from his first day at the academy.
This was not the case.
In March 2009 Fernandes signed his first senior contract with Gremio. A great start for a great player. But the very next day he went missing. Neither club management, nor his friends, nor his family could find him. The police got involved, and Fernandes was found three days later and hundreds of miles from Porto Alegre, where Gremio play.
After signing his contract Fernandes fell into a depression and travelled to Jundiai to visit his uncle, making stops every few hundred miles. When he was found he was exhausted and hungry.
"I got unbelievably homesick, so I left for a few days," he said in a recent interview.
"Why didn't I tell the club? To be honest, I don't want to talk about this. But I will say one thing: this isn't funny. I sympathise with Jesus Navas, who found it hard to leave his home at the start of his career."
After undergoing psychotherapy to deal with his depression, Fernandes played some great football in the Brazilian league, but times were still tough. Mario didn't watch his diet, he drank, he went clubbing and neglected his daily fitness regime.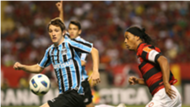 "I would drink so much that I would sometimes show up drunk to training," he said.
"I was 19, I lived alone in Porto Alegre. I ate pizza and McDonald's every day. The Gremio dietitian came to me and said I would only eat on-site from then on," he added.
This lifestyle, of course, brought Fernandes to the point of catastrophe. At 21 he was called up to the Brazil squad, but after partying the night before, missed his flight. Fernandes was stripped of his spot in the national team for the next three years.
Fernandes' wanton nature did not deter CSKA president Yevgeni Giner. The Army Men are lauded for their ability to get the most out of their scant transfer budget (Yury Zhirkov was signed for almost nothing from Spartak Tambov, Pontus Wernbloom was brought in just to attract fellow Swede Rasmus Elm, Ahmed Musa was sold on to Leicester and brought back on loan, and so on). But the club paid $15 million (£9.4m) for Mario Fernandes in 2012 – a very high fee for the time.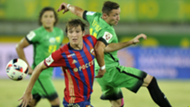 The fee paid was a gesture of trust in the defender. And Fernandes justified that trust. As the deal was being concluded, the player was approached by Real Madrid.
"Several days after we signed the agreement with Gremio and Mario, Real approached the club and the player," CSKA's then Chief Scout Anton Yevmenov said.
"Real offered Gremio more than we did, and they offered Mario much more. His agent showed me the figures when Mario was already training at CSKA and preparing for the season. He said that even if Real had made their offer a little earlier, he would still have come to CSKA.
"Because he understood that, at Real, he would have been a fringe player at best, whereas we had assured him that he would be an immediate starter for us. He would have the chance to make further progress, and Real would have to come back for him. And he would be able to go there with Champions League experience under his belt."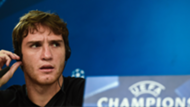 Fernandes did indeed get an immediate starting spot at CSKA, and he played some excellent football. Most surprisingly of all, Fernandes, so far from his beloved home, significantly changed his lifestyle.
Lokomotiv Moscow winger Maicon took Fernandes to the city's Brazilian Evangelical Church, which proved a life-changing experience.
"I am an Evangelical," Fernandes later said. "We base our faith only on Biblical canon. I respect all kinds of Christianity, we all believe in the same God. But, again, don't think I'm some kind of perfect person. I'm not. I have simply changed."
In 2015 Fernandes was once again called up to the Brazil squad. However, he had developed a comfortable life in Russia and had already spoken to CSKA CEO Roman Babayev about his chances of getting Russian citizenship.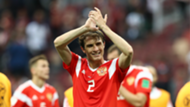 The right-back's choice of national team was also affected by circumstances. He had only played once for Brazil, in a friendly match. Russia had become his home, his beloved club and his church were there, and this impacted his decision.
Fernandes received a Russian passport, and shortly afterwards he was called up to represent his new country.
Several people back in Brazil consider him a traitor, but Fernandes doesn't care. He is happy and firm in his convictions.
This calmness helps the defender to make important decisions that affect his game. During the last 16 match with Spain, Fernandes completed the second-most tackles out of any player, kept Nacho and Marco Asensio firmly in his pocket, and was one of the few Russian players who attempted to go forward and attack Hierro's team.
In the group stage clash with Egypt, Fernandes provided an assist for the second goal, a fine pass into the box which allowed Denis Cheryshev to slot home at his leisure.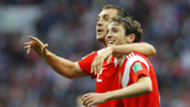 It's unlikely CSKA would have achieved what they have over the past five years were it not for Fernandes. And Russia certainly wouldn't have made it to the World Cup quarter final.
As for Real Madrid, they are sure to come calling sooner or later.
"I lead a calm life. Every day I go to training, then go home," Fernandes said recently. And this is good. Try watching Mario play, and you will be just as calm as him.