Wayne Rooney
Rooney sends condolences to Manchester bombing victims after Europa League final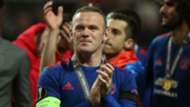 Wayne Rooney sent his condolences back to the victims of the Manchester bombing after his Manchester United side took a 2-0 win over Ajax to win the Europa League Wednesday. 
The forward, whose future remains unclear, wanted to make sure the people of Manchester knew they were in his, and the team's, thoughts. 
Mourinho: Poets don't win trophies
"It was a good win obviously, delighted for everyone to win the trophy, the fans and I think for the city of Manchester with what happened yesterday," Rooney said. 
"It was a disaster, and my condolences are with the families and friends of people who have lost lives or are injured.
"So first of all we have to mention that, and second of all football took a back seat over the last couple of days and we're just happy with the win now."
The striker made a short cameo against Ajax, coming on for Juan Mata in the 90th minute, but admits it was tough for him and the other United players to focus on the match. 
"I knew people who were at the concert, so it's not easy," he said. "It's not a nice moment, not just for Manchester but for the whole of England.
"It was a sad day and we all felt that, and then we had to obviously go out and try to put a performance in to win the game."
While football may have been pushed to the back burner, the win pushes Manchester United, who finished sixth in the Premier League with 69 points, back into the Champions League. 
It was a bit of good news for a city in mourning, and Rooney lauded his team's ability to put in a performance in a vital moment. 
"We've seen in the last three or four Premier League games we've been focusing in on this game to try to make sure we get the win and obviously get the Champions League spot, which we've done, but also to get a trophy.
"So it's a good moment for us."