Cristiano Ronaldo
Ronaldo left 'angry' by red card - Bonucci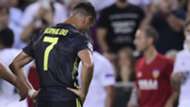 Cristiano Ronaldo was "angry" after being sent off according to Leonardo Bonucci, while Juventus manager Massimiliano Allegri thinks VAR would have avoided the red card.
Ronaldo saw his Juventus Champions League debut cut short to just under a half hour after an incident with Valencia centre-back Jeison Murillo.
Murillo and Ronaldo appeared to tangle off the ball, just outside the Valencia area, with the defender going down. Ronaldo then made contact with Murillo's head, with the forward potentially tugging at the defender's hair.
Editors' Picks
As a result, Ronaldo was given a straight red card, which sent him to the turf in shock at first and was followed with the Juventus man being visibly distraught as he left the field.
Despite the sending off, Juventus came away with the victory on the strength of two Miralem Pjanic spot-kicks, with the second coming at the expense of Murillo.
After the match, Bonucci disagreed with the referee's decision, and confirmed Ronaldo's dismay over the situation, though the defender praised his team for their resiliency.
"As far as I could see, it was a pretty normal clash," Bonucci told Sky Italia. "Murillo put his hands on Ronaldo first, he reacted, but these things can happen and we must be stronger than everyone and everything.
"Ronaldo was angry, of course. The referee saw what he saw – not very well – and we overcame the obstacles."
Juventus manager Allegri indicated he did not think Ronaldo's actions merited a red card, stating his belief that VAR, which is used in Serie A but not in the Champions League, would have saved his star the early shower.
"I can only say that VAR would've helped the referee in this decision," Allegri said. "Going down to 10 men in the Champions League for an incident like that is disappointing."
"We risked losing tonight with this and we'll miss him for the next games too."
Juventus' next match in the Champions League will be against Young Boys, who lost 3-0 to Manchester United.
Ronaldo will miss the match against Young Boys, and could miss out on Juventus' visit to Old Trafford as well, as the UEFA disciplinary board will have the option to extend the suspension upon review.