PSL
Robyn Johannes relished facing unavailable cousin Roscoe Pietersen in Cape Derby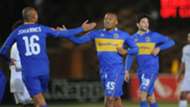 Cape Town City captain Robyn Johannes and Ajax Cape Town's Roscoe Pietersen will have a sense of nostalgia when their clubs meet in opposite ends of the Cape Town derby on Saturday.
"This will be the first time we will play against each other and it's going to be quite special. The game will take us back to the days we watched derbies at Athlone and always told ourselves that we wanted to be involved one day," Johannes told the media.
However after Johannes conducted this interview, Pietersen was ruled out through injury and they won't be able to face one another after all.
Editors' Picks
"Our families will be there to support us, but half will be in blue and the other half will be in red," he said.
Apart from the game, Johannes believes his cousin has great footballing ability and that they have the same characteristics within their game.
"Roscoe has great footballing ability, I think, as players the two of us have similar characteristics, and I have great love and respect for him as a person," he added.
"Like me, he has had a lot of setbacks in his career, especially with injuries, but both of us learnt from a young age that the best way is just to dust yourself off, look forward and move on. I have great admiration for Roscoe," Johannes concluded.
For Johannes sake, Pietersen better be ready for the second Cape Town Derby.