Transfers
REVEALED: Giroud, Koscielny and Coquelin's new Arsenal contract lengths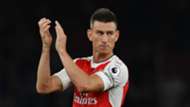 Olivier Giroud, Laurent Koscielny and Francis Coquelin signed new deals with Arsenal on Thursday, and Goal can reveal the exact length of each extension.
The French trio have all committed to the Gunners on long-term deals after extensive talks over the past few weeks.
FULL STORY: Arsenal trio sign new deals
Giroud, who has scored nine goals for Arsenal so far this season, has extended his deal by two-years which will take him to 2019, while Koscielny and Coquelin have signed until 2020 and 2021 respectively.
"We are very pleased that three important members of our team have committed to us for the long term", manager Arsene Wenger told the club's official website.
"Francis has made tremendous technical strides over the past few years because he's so focused every day.
"Olivier has big experience in the game now and has become a more and more complete player since joining us.
"Laurent is of course a key part of our squad and I believe one of the best defenders in the world today. So overall, this is great news for us."
All the latest Arsenal team news
Contract extensions remain a priority for Arsenal with Alexis Sanchez and Mesut Ozil both seeing their deals expire next summer.
Talks are ongoing between the players' representatives and Gunners officials and it's expected that their situations will be resolved by the end of the season.
Ozil recently confirmed Goal's exclusive story from October that his future won't be decided until Wenger decides his own, with his contract set to expire in June.