Premier League
Resurgent Ayew out to save West Ham and Bilic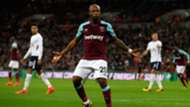 West Ham United attacker Andre Ayew says the team are focused on turning around their fortunes as they hope to protect under-fire manager Slaven Bilic.
Bilic's future has been thrown in doubt following the Hammers' disappointing form this season.
Having won only two of nine Premier League games, West Ham currently sit two places above the demotion zone, and the situation gets worse upon realising that the side are tied on points with relegation-trapped Everton.
"It's not been easy, it's been a tough time, but we have a lot of quality players and we need to stick together and keep fighting as a team and we'll get out of this situation," Ayew said, as reported by his club's official website.
"When you're in a club like West Ham and the results are difficult, the manager is under pressure, and the players are too, but we just need to keep working hard.
"The manager knows the players are behind him and will give everything, not just for him but for themselves too, because we have to wear the shirt with pride.
"We're going to do everything to get some points and get out of that zone. There is a fighting spirit and we need to do it week-in, week-out."
Following last weekend's shocking 3-0 home defeat to new boys Brighton and Hove Albion, reports were that Bilic was going to be sacked should he fail to get a good result in Wednesday's League Cup clash with Tottenham.
Fair to say, that the 49-year-old still has his job is down to Ayew, who hit two goals to draw West Ham level from two goals down, before Angelo Ogbonna fetched the winner to complete the comeback against Tottenham.
"This is a good win for confidence," Ayew said.
"It's a derby with Tottenham at Wembley and we were losing 2-0 at half-time, so there are a lot of things from this which smell good."
West Ham play away to Crystal Palace on matchday 10 of the Premier League on Saturday.