Arsenal
Ramsey to captain Arsenal? Campbell talks up leadership role for contract rebel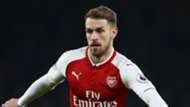 Aaron Ramsey may be yet to commit his future to Arsenal but the midfielder "ticks a lot of boxes" when it comes to choosing the club's next captain, claims Kevin Campbell.
The Wales international is about to enter the final year of his contract, placing him in a position similar to that filled by Alexis Sanchez, Mesut Ozil and Jack Wilshere in 2017-18.
The 27-year-old has hinted that he may be ready to put pen to paper, with it his opinion that the appointment of Unai Emery as Arsenal's new boss has ushered "exciting times" into Emirates Stadium.
Editors' Picks
If he is to stay on, then he will have a crucial role to play in a new dawn for the north London club, with it possible that he could inherit the armband from retired skipper Per Mertesacker.
Former Arsenal striker Campbell feels Ramsey would be perfect for the role, with the Gunners in need of a Tony Adams type to lead from the front.
He told ESPN FC on the qualities of his era which need to be replicated: "You've got to look at the time and the players who were there. The leader had to be strong and had to be someone who was fierce and fearless.
"Because as a team we were fierce and fearless. So your leader couldn't be soft. Your leader had to be tough and a permanent member of that squad.
"But for the last four, five years, Arsenal went soft, and it's showed itself in the league standings.
"Aaron Ramsey ticks quite a lot of boxes [as captain]. He's one of the longest-serving players in the first team. If there's a structure, Aaron Ramsey could be that guy.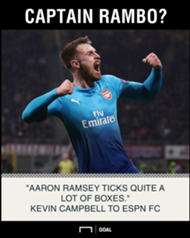 "But I wouldn't put it past Unai Emery going out and finding a player that fits his criteria, who can come in and lead the football club.
"If you don't see a captain type figure within that club, then you have to go out and recruit one.
"They need experience and toughness. Because that is everything that Arsenal have lacked.
"That experience and that toughness and being able to go away and grind out a victory at one of your rivals, Arsenal haven't done that in years. So that type of experience and knowledge is key."
Emery has already moved to bring added experience into his squad, with Goal revealing that positive talks have been held with 34-year-old full-back Stephan Lichtsteiner after seeing him drop into the free agent pool at the end of his contract at Serie A champions Juventus.