Manchester United
Lukaku super show overshadowed as 'racist' chants drag Man Utd's name through mud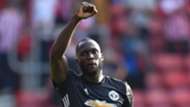 Romelu Lukaku cannot stop scoring for Manchester United, but it appears many of their fans are still reluctant to sing a song about him that doesn't include reference to his manhood. Is this really 2017?
It was just after Lukaku had scored the game's only goal in the 20th minute against Southampton that a majority of the travelling support broke into a chorus of the tune which has recently forced United to speak up against its use and even had the player appealing for everybody to move on . A follow-up of 'We're Man Utd, we'll sing what we want' hardly helped matters.
Thankfully that was about the end of the chanting for the afternoon, but Lukaku's continued phenomenal achievements are in danger of being completely overlooked because of the small-mindedness of the very people who should be celebrating his achievements the most.
His goal at St Mary's settled a rather underwhelming contest to keep United apace with neighbours City at the top of the Premier League, and extended his fantastic start since switching from Everton in July. He now has eight goals in eight competitive games and has failed to score only once in United colours.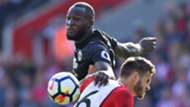 The Belgian's last three Premier League goals have come at the second attempt after seeing an initial effort blocked, and on this occasion it seemed pretty harsh on Fraser Forster that his superb save had fallen straight back into the path of the red-hot front man. If some might consider it luck to have one or two efforts rebound to you over the course of a campaign, surely the regularity with which Lukaku pounces just shows how dangerous a striker he is.
In a United side which has looked to have a far greater edge about it this season, Lukaku's talent close to goal has been a notable addition to their game from this time last year. While Zlatan Ibrahimovic also scored at a great rate, he didn't always provide the figurehead presence in the area which has made the Belgian so valuable.
Lukaku's quality must not be overlooked and while some United fans would rather perpetuate an age-old slur, which is what it is however complementary it is claimed to be, it is not helping to focus the attention on just what a boon he has been to a club looking to edge ever-closer to being that clinical machine they used to.
Jose Mourinho has regularly spoken about the lack of noise at Old Trafford since becoming United manager in the summer of 2016, and that is certainly not a complaint that can be made about their travelling army. Where their home ground can often sound like a library, there is rarely a quiet moment when they're on the road.
But their belligerence on the Lukaku chant is not only ethically misplaced, it is also dragging the name of the club into the mud at a time when they are finally making real progress on the field. Again following this game, the name Romelu Lukaku will be attached to the idiocy of a few instead of the continued excellence of the man himself.