Nigeria A'
Priscilla Vande reveals what made UAM Tillers 2018 HiFL champions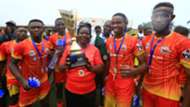 UAM Tillers coach Priscilla Vande lauded her team for 'always giving their best' after their triumph in the 2018 Higher Institution Football League on Saturday.
The Tillers defeated UNICAL Malabites 5-4 on penalties after both sides failed to break the deadlock before the end of regular time at the Agege Stadium.
The triumph means the University of Agriculture, Makurdi will fly Nigeria's flag at the International University Sports Federation.
Editors' Picks
Having won the Nigeria University Games on home soil a year ago, Vande disclosed how she managed her side to another successful outing and how she has developed her team.
A good result deserves a good reward!

UAM Tillers getting their reward for winning the #HiFL2018Finals #HIFL2018 #HiFLStanbicIBTC pic.twitter.com/3AewjU2qs4

— Goal Nigeria (@GoalcomNigeria) November 3, 2018
"I'm extremely happy and I express my gratitude to God for giving us the grace to be champions again," Vande told Goal.
"At half-time, we corrected some of the mistakes we made in the first half and at the end, we took the day.
"In our hearts, we have it already that we will win because the players are determined to win and not just to play football because some of them are aspiring to go into football professionally.
"They gave their best today, which they always do at every time and that's why we won NUGA last year and the HiFL this year.
"We have another team preparing to play in another tournament this month because we are always building as some are graduating, others are coming up."