Paul Pogba
After helping Man Utd to the Europa League, Pogba would be 'very happy' if Juve won Champions League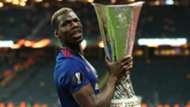 Manchester United star Paul Pogba insists he would be happy if Juventus won the Champions League, wishing his former club luck.
Pogba opened the scoring as United claimed a 2-0 win over Ajax in the Europa League final on Wednesday.
Mata: Wanted to win for Manchester
The France international was a world-record signing from Juve in the off-season, but his former club have had few problems without him, winning a sixth straight Serie A title and reaching the Champions League decider.
A Juve win against Real Madrid in Cardiff on June 3 would see the Italian giants face United in the UEFA Super Cup and Pogba welcomed that potential clash.
"If Juventus win the Champions League, I am very happy, very happy," he told Sky Italia.
"Then we would be in the Super Cup against them? True. But I can say good luck to my former team-mates."
Henrikh Mkhitaryan's second-half goal sealed United's win and a place in next season's Champions League.
Ibrahimovic: My future? Let's see
Pogba was satisfied with the victory, saying: "We played to win.
"We wanted to do it right from the start of the competition. We got up there and we are very proud now."