Tottenham Hotspur
Pochettino defends diving: Over-analysis is killing football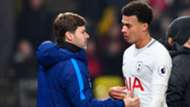 Tottenham manager Mauricio Pochettino worries that a fixation on diving and cheating is "killing the game" of football.
Midfielder Dele Alli was booked for simulation during Spurs' 2-2 draw with Liverpool at the weekend, as he attempted to win a penalty whilst through on goal.
Pochettino agrees that the decision was correct, but he feels that such incidents are over-analysed, and has praised Alli's character.
"Look, it was a yellow card," he told reporters, per The Independent. "It happens. The referee was right. During different games, a lot of situations like this happen.
"The problem now is that we are so sensitive about the situation, and then we are so focused on Dele Alli. It's too much sometimes. There is such a focus on this type of situation. I think it's a minimal issue.
"Look, there are a lot of positives from Dele. Of course, he's not perfect. Nobody is perfect. Of course, he is a clever boy. He is a little bit nasty. The problem is that, more than this type of situation, I am worried we are going to change the game that we know."
VAR's introduction to English football has been much discussed, with the ability to analyse the minutie of every decision deemed too forensic by some.
Pochettino is in agreement, and believes that "small actions" are analysed to extremes; the Argentine even believes that dives can be explained in the heat of the moment.
"Football is a creative sport," he added, "in which you need the talent that grows in a very intelligent person, a very smart brain. And now we are so focused on minimal details. I am worried that in a few years, we are pushing the sport we love now - a passionate sport that people love to watch around the world - into a very rigid structure. With VAR, with focusing too much on small actions like this.
"Football is about trying to trick your opponent - yes or no? Tactics – what does 'tactic' mean? When you do tactics, it is to try to trick the opponent. You play on the right, but you finish on the left. Twenty years ago, thirty years ago, we all congratulated a player when he tricks the referee like this. That is the football that I was in love with when I was a child. Yes, in Argentina, but in England too. You believe that in England you were honest and always perfect?
He added: "I am worried that maybe we are going to kill the game. We love this game. Referees are humans too, and sometimes they are right, sometimes they are not right. In 10 months, over the whole season, sometimes it is against you, sometimes it is for you. For me, I like this type of football.
"My worry is this: of course if you dive, and the referee saw you, you are punished. And he deserves it. But don't go more crazy."