Super League
Reuben embracing new lease of life with the Red Ants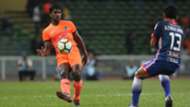 From the outside, it's simplistic to sometimes think that players are professionals and possesses the ability to constantly keep their emotions in check. The reality is, when the going gets tough, the harder and more impactful it will be not only for the fans, but for the players as well.
It has been a massive turnaround of fortunes for K. Reuben who last season spent a year with a struggling Penang side who only managed to win three matches in the entire 2017 Super League season that saw them relegated to the Premier League.
Editors' Picks
Now with a high-flying PKNS FC side who are making waves in the 2018 Super League season, the approach and perception towards things have completely turn 180o for Reuben. The right back explain to Goal just how different the mood is, even turning up for training, let alone for competitive matches.
"Very refreshing. I tell you it's a very different feeling altogether. Not only for me but even my family can see it. My parents and my wife, they can see the difference," he said. "You know how difficult it is for players, the whole cycle of motivating yourself back to wake up the next day. It's nice to be back to winning ways.
"It is a stepping stone. It helps me to get back my confidence individually as a player and also to perform each game. The squad is big and we have a lot of quality. I have to perform every game."
(C) Penang FA
Since signing for the Red Ants, Reuben has made himself an integral member of the squad and is now one of the first names on the team sheet in his customary right back position. Working with K. Rajagopal, the man who gave him his first taste of international football has always worked wonders for the tough-tackling defender.
This season has seen Reuben playing alongside Zachary Anderson, Rodney Akwensivie and Qayyum Marjoni when all are available and the 28-year-old has only high praise for the defensive partnership that he has next to him.
Having played with ATM and PDRM prior to joining Penang last season, Reuben has been around in a few defences and likens the current ones to be one of the best that he has ever worked with.
"It's nice working with both, especially with Zac. When you have a talker, it makes your game easy because he commands the whole field. From the back line to the forward line, he commands everyone and keeps us alert." 
"Rodney on the hand is young guy. He's big and strong but as well very fast. So it's good to have a fighter like that beside you. His dad is a Ghanaian and the built that he has reflects that. He just has to improve on a few things and I don't think it's impossible for him to be in the national team," added Reuben.
Currently in third place in the Super League, Reuben and his team mates face a tough challenge in their next league match when they travel down to Johor Bahru to face reigning champions, Johor Darul Ta'zim. 
Trailing only two points behind the Southern Tigers, PKNS has a chance to return to the summit should they achieve something no team has done in the league since 2013 - to win at Tan Sri Dato Haji Hassan Yunos Stadium.
Win a trip to watch Liverpool LIVE at Anfield. Click here to know more.