Pescara
Pescara affirm support for suspended Muntari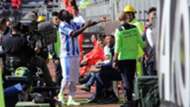 Italian topflight side Pescara "firmly stand" by beleaguered midfielder Sulley Muntari, despite Serie A Disciplinary Commission's decision to uphold a double booking picked up during a racist incident on Sunday.
The Ghana international received a yellow card for dissent after complaining of racist chants directed at him by Cagliari fans during a league match at Stadio Sant'Elia.
After angrily walking off the pitch in protest, the 32-year-old was booked the second time for unlawfully abandoning the match while in session, a decision that mandates the Black Star to serve a one-match suspension.
"After reflecting and analysing the various statements regarding the serious incident that happened in Cagliari on Sunday with a cool head, Delfino Pescara 1936 take a firm position alongside its player to send a strong signal against any type of racist discrimination, whether it is done by one or 100 people," read the club statement.
"Having said that, knowing the fairness of the people of Cagliari, and in apologising for the behaviour of the player that was outside of the rules, we confide in the good common sense already shown on Sunday by all those present and hopes that in future, these incidents will be confronted and resolved in categorical fashion."
FIFPro, the worldwide representative organisation for professional footballers, had called on the bookings to be "rescinded", arguing that "Muntari was well within his rights to approach referee Daniele Minelli, as the first point of reference, to make his grievances known and seek a solution".
Muntari, who joined Pescara in January, will, thus, sit out Saturday's league clash with Napoli.
The former Inter Milan man has made nine Serie A appearances involving seven starts for the Dolphins so far.