Arsenal
Ozil should be playing for his Arsenal future - Dixon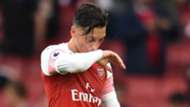 Mesut Ozil should be under "scrutiny" at Arsenal, says Lee Dixon, with it only right that players of his ability are put under pressure to perform and play for their future.
The German playmaker has been placed under the brightest of spotlights ever since he arrived in north London, with a £42.5 million ($56m) deal luring him away from Real Madrid in 2013.
Ozil has been a regular source of assists and creativity throughout his time in the Premier League, but consistency is considered to have been an issue.
The 29-year-old is now free to focus purely on his club career after retiring from international football, but new Arsenal boss Unai Emery is still demanding more from him.
Former Gunners defender Dixon considers that to be a good thing, telling the Daily Star when asked if Ozil faces a battle to earn a regular role: "I hope so. I really do, I hope they all do. 
"He's a high-profile player, and that comes with his price tag and his wages. That's why most of the attention is directed at him because he is arguably Arsenal's most talented player, the most creative player. 
"So a lot's been expected of him but it shouldn't be any other way. There should be scrutiny on him, that's his job. 
"And if he doesn't produce what Emery wants him to do, and he might say to him - some managers, you can play with players who don't work maybe as hard as other players. 
"You can accommodate and say 'do you know what, it's OK, because you're going to get this, this and this'. 
"Now, if what he produces is enough in order to take the team and carry them in certain parts of the game then fine. That's been the case in the past when what he's produced has been enough to warrant his wages and his position in the team and his status level at the club.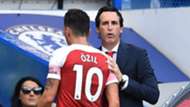 "Now, the players dictate quite a lot of that because if you're not producing and things are not going well then the team should be policing itself from within.  
"All the teams I've played in policed themselves from within and you knew that certain players you were going to get this, certain players you were going to get goals, certain players you were going to get creativity. 
"You might not get rough and tumble at times from some of them but you'd accommodate that and say 'do you know what, I'm quite good at that so I'll do his work for him' to a certain extent. It all goes to the makeup and the character of the team. 
"Whether Mesut Ozil fits into that with his team-mates and whether that fits in with the manager and what he requests of him, that's the testing part and I'm still not sure how that's going to work out with Emery and Ozil. 
"There seems to be something there that he's going and said openly 'I need a bit more from him in certain areas'.
"I'm sure he needs a bit more from all of his team in certain areas, but because Mesut is so high profile and we all want to talk about him because he's such a talent and he's so frustrating at times, that's why he's such an interesting subject."
Arsenal and Ozil return to action after the international break on Saturday with a trip to St James' Park to take on Newcastle.