Premier League
Opoku apologises after 'inappropriate' comments about Aduana Stars top hierarchy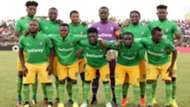 Aduana Stars midfielder Elvis Opoku has apologised for making 'inappropriate' comments about the club's top hierarchy following their exit from the Caf Confederation Cup.
Last week, the 24-year-old said players at the club were poorly treated and that he wanted his two-year contract mutually terminated.
However, in a statement posted on social media on Tuesday, Opoku said he was sorry for making such comments.
Editors' Picks
"I humbly express my deepest apologies for my misconduct. I regret that my actions made the situation worse than it needed to be," Opoku posted on Facebook.
"To Osagyefo Oseadeeyoo Nana Agyeman Badu, the Aduana Football Club, the players and you the fans, I can only say I am sorry," he added.
According to Goal's sources, the midfielder will be hauled before the club's disciplinary committee despite his apology and may lose two months' salary.
Opoku joined Aduana in the 2014-15 season from second-tier side Bibiani Gold Stars, winning the Ghana Premier League title with the club in 2017.