Ghana
Nyantakyi named as Fifa Foundation Board member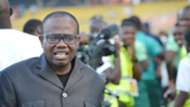 Ghana Football Association president Kwesi Nyantakyi has been named as member of Fifa's new committee, the Foundation Board, for the next four years, which takes effect in 2018.
The 49-year-old, who doubles as Fifa council member, will deputise president Gianni Infantino, with Sonia Bien-Aime as the other member.
The Foundation will provide a solid legal and institutional basis for Fifa's social development initiatives.
"Fifa has appointed GFA President Kwesi Nyantakyi as a member of the board to steer the affairs of its newly established foundation, the Fifa Foundation," GFA statement read.
"Nyantakyi was appointed during the meeting of Fifa Council in Kolkata, India on Friday. Fifa president Gianni Infantino and Fifa Council member Sonia Bien-Aime are the other members of the board.
"According to Fifa, the Foundation is established with the purpose of providing a solid legal and institutional basis for Fifa's social development initiatives.
"One of the core intentions of the FIFA Foundation will be to institutionalise a commitment of the Fifa Legends to engage in such activities and act as promoters of Fifa's aims and objectives related to social development," The statement added.
Goal understands that the Fifa Foundation Board's core mandate will be in full operation by the first quarter of 2018 and other appointees will be named later in the year to aid with the smooth running of the program.
Fifa's Council also approved an increase in 2018 World Cup prize money to $400 million — 12% up from the USD 358 million of the 2014 edition.
Nyantakyi has added this new role to his first vice president role at Caf and the president of West African Football Association Zone B.