NWPL officials, players take Girl Child Day celebration to schools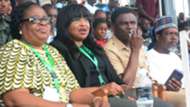 Officials and players of the Nigeria Women Premier League marked the International Girl Child Day with a visit to female students at Emotan Secondary School in Benin City.
Nigeria Women Football League vice chairperson Mrs. Icheem Margaret alongside board members and players were guests of the students to advance their Women's Football Community Development initiative on Wednesday.
During the interactive sessions, the girls were taught how to combine sports with their education and encouraged them to embrace football.
Editors' Picks
Addressing over a thousand students, Rivers Angel's goalkeeper Charity John told them how playing football and being educated helped her become a breadwinner for her family.
Also, Tochi Oluehi, Charity John, Nnodim Sarah, Mariah Ibrahim and Igboamalu Chinyere shared their experience and achievement combining sports and education, urging the students to go the extra mile in ensuring that they engage in at least a sport and focus on their studies.
Students of Emotan Girls Secondary School during the NWFL Community Development Programme of the Chairperson, Aisha Falode, on Wednesday. pic.twitter.com/7GKVEMsTsm

— Nigeria Women League (@NWFLLive) October 11, 2017
On the other hand, the female students of Emotan took turns to asked questions about sports, while appealing for the provision of equipment and facilities to play football.