Guardiola
No bottle, no trophy - Guardiola has failed to live up to the hype in first Man City season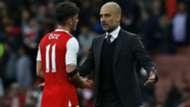 ---
COMMENT
---
Pep Guardiola will continue to try to do what he was brought to Manchester City to do, but his job will not have been made any easier after another big game went begging.
Alexis sends Arsenal into FA Cup final
The Catalan insisted in the build-up to this FA Cup semi-final clash with Arsenal that he would leave it for the journalists to decide if he has failed in his first season at the Etihad Stadium. There will be many, in the media and in the stands, who will have made up their minds after this defeat, coming as it did against Arsene Wenger's brittle outfit.
Editors' Picks
Indeed, the first trophy-less season of Guardiola's managerial career would suggest he has struggled to adapt to the English game, or that his possession-based game will never work here.
The reality, here at Wembley and across many other major games this season, is not quite so straightforward.
City yet again had enough chances to put the game out of sight before their opponents managed to drag themselves up off the canvas and land a sucker-punch. Guardiola was so angry with his side's performance against the Gunners in the league earlier this month that he has let his feelings become known in public, which is rare.
On several occasions since he has bemoaned the performance, saying he "never wants to see my team play like that again" and, in the Wembley programme, spelled out again that his team "forgot to play".
His message in private, immediately before this game and the days leading up to it, would have simply been: "Do not do that again".
Yet they did. Not for long, but long enough. Sergio Aguero scored an excellent breakaway goal but City allowed the Gunners a foothold in the game again and Alex Oxlade-Chamberlain's delightful cross was converted by Nacho Monreal, who had been doubling up alongside Alexis Sanchez on Jesus Navas.
Still want to join City, Alexis?!
Navas, at least, has put in some spirited performances despite not being good enough. He has too many team-mates who are also struggling, or faring even worse.
If it is ultimately decided that Guardiola has failed this season, a large share of the blame must be taken by those responsible for leaving the squad so short thanks to years of questionable purchases.
City need a raft of new players and that has been evident for months. Quality, young and versatile recruits are needed to drastically upgrade the defence and, as was made plain at Wembley, add much-needed depth to the squad in attacking areas.
City also need battle-hardened winners, and how inevitable it was when Alexis, the man they hope to sign this summer, stabbed in an extra-time winner just seconds after a tiring Aguero was taken off and replaced by Fabian Delph, who was later put through on goal but could not convert when it mattered.
That has been the story of the season. Guardiola, while bemoaning his side's fragility when in leading positions, says his side are better after a setback. That was again evidenced when Yaya Toure and Fernandinho hit the frame of the goal at 1-1, and when Kevin De Bruyne flashed one just wide of the post after Delph's miss.
In the end, though, Wenger's men did more than enough to be declared deserved winners. That those players have too often been accused of going missing, or even not playing for their manager, it does not say a great deal about the mentality of their City counterparts.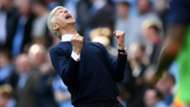 Indeed, if it were not for the sheer amount of new players needed this summer, the task of instilling a winning mentality in this team would be Guardiola's most demanding.
It seemed like a change of tack when he said ahead of the match that, "Winning or not winning isn't going to change too many things about the perspective of our future, what we are going to do." After all, he has talked so often about changing the club's mentality by playing in the biggest games, and winning them.
Guardiola, while millions debate whether he has failed or not, will remain fully committed to what he wants to do and, most importantly, how he wants to do it.
But the look of despair on his players' faces at full-time suggests he will have a formidable job on his hands to convince them to go again. He thought he had done it after losing at Monaco, but despite a full-spirited display just three days later a draw was the best City could muster and, in all, they have failed to beat Liverpool, Chelsea and Arsenal twice since their European elimination.
Guardiola did quickly seem to go back on what he had earlier said to acknowledge the role winning a trophy would have as he bids to convince his players to follow his lead: "It would put in the hearts and heads of my players how good they are. I said many times with them, but they still don't believe how good they are. Winning titles helps you a lot."
Clearly, they will not get that help this season.
Yet, while those around City seem to have had at least one eye on the summer and beyond, there is the increasingly difficult prospect of a Manchester derby up next, on Thursday night.
Guardiola needs to make his players believe they are good enough to play his way, a way that has, let it not be forgotten, brought both unprecedented success to Barcelona and joy to millions around the world, and a playing style that established Bayern as a force in world football.
City make history with fourth sub
New players will help in that regard but once again the Catalan will need to make do with what he has got. The derby is next but, since beating United at Old Trafford in September, City have played well in their big matches but taken one point off Tottenham, none from Chelsea, one from Liverpool and three from Arsenal - thanks to their only win against a top side - as well as losing to the Gunners here in the cup. Not to mention a failure to win a Champions League away game, and a collective lack of bottle when it mattered in the south of France.
Given the shortcomings of the squad it would be harsh to write this season off as a failure, or at least to say their manager has failed. More time is required, and that has been obvious for months.
But City have consistently failed to win their games against the best teams, which is why they are in this situation. Surely now it cannot be disputed that Guardiola's debut campaign has at least been a major disappointment.
A place in the top four is now the best possible outcome. Beating United on Thursday would surely see to that, but there are no guarantees they will.
Whatever happens this week and in the weeks to come, there will be a lingering sense of doubt among many pundits and fans that Guardiola is able do the job he was brought here to do.
But it is the players Guardiola must convince, and as soon as possible.