MLS
No Giovinco, no Altidore? No problem for Toronto FC in rampant victory over Columbus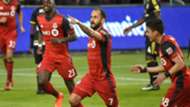 TORONTO — Greg Vanney has made a lot of noise about the quality of depth enjoyed by Toronto FC, and Friday night his team showed that perhaps the coach is on to something.
Vanney boldly declared earlier this season that his team may be the deepest in MLS history, and Toronto's 5-0 win over the Columbus Crew led him to double down on his words.
MLS Talking Points: Cascadia rivals clash
With Sebastian Giovinco and Jozy Altidore sidelined, it was unclear ahead of the match where TFC's offense would come from. Altidore and Giovinco have combined for 12 goals in 2017, which was over half of Toronto's total output heading into the meeting with Columbus.
Altidore was sitting because of yellow card accumulation and Giovinco was nursing a quad injury, so one could have forgiven Vanney and his staff had they approached the match a bit more pragmatically than usual. After all, TFC's lone loss in league play this season came at the hands of Columbus.
Instead, the league's hottest team managed its biggest victory of the season, dismantling the Crew thanks to contributions from all over the field.
"It was awesome," goalkeeper Alex Bono said. "We talked before the game about how no Jozy, no Seba doesn't mean we take the foot off the gas. We came into the game expecting to make a statement and we did."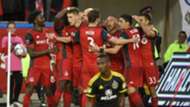 Instead of employing an overly defensive setup, Toronto chose to soak up pressure and hit on the counterattack through new striking duo Tosaint Ricketts and Ben Spencer. With Ricketts providing the pace and Spencer adding brawn to the TFC attack, the pairing paid off almost immediately, as Ricketts made Crew center back Jonathan Mensah look like he was standing still en route to a sixth-minute penalty kick.
Ricketts had initially stepped up to take the spot kick, but he was waved off and replaced by Victor Vazquez, who made no mistake in slotting past Zack Steffen for the early advantage.
It was Vazquez who sent Ricketts in on goal, and from that moment the Spaniard seemingly took it upon his own shoulders to replace the missing threat of Altidore and Giovinco. If he wasn't creating, he was teeing up shots for himself, and he nearly caught a flat-footed Steffen out of position in the 50th minute after pressuring Crew right back Harrison Afful into a giveaway.
It was only moments later when Vazquez would punctuate his night with an audacious free kick under the Columbus wall to seal the victory — although there were still two more goals to be had for Toronto.
WATCH: Vazquez's tricky free kick
"He is two steps ahead of everyone," Vanney said of Vazquez, who now has three goals and a league-leading eight assists in his first MLS campaign. "He knows how much time he has, he knows where the pressure is coming from, he knows where the outs are and knows where the passes that can hurt people. He has the ability to make those passes and he is just very clever. Of all the attacking midfielders [in MLS], he is the most clever by a long shot."
While Vazquez was the clear star of the night, Toronto enjoyed stellar performances elsewhere. It's hardly surprising that captain Michael Bradley was among the leaders on the night, outpacing all his teammates in pass completion and total passes made.
Bradley and Vazquez aside, Toronto's local contingent also had a clear impact on the match. Vanney's three substitutes — Jonathan Osorio, Jordan Hamilton and Raheem Edwards — combined for two goals and three assists in the rout.
It was the kind of contribution that Vanney has come to expect from a team that is now unbeaten in eight league matches, with seven of those being wins.
Vanney: "We have the deepest team in the league. Maybe the deepest ever. I stand by that." #TFCLive | #TORvCLB

— Toronto FC (@torontofc) May 27, 2017
"We are over the moon about scoring five goals on a day like today," Vanney said. "We had contributions from a lot of guys and had a guy (Spencer) make his first ever appearance in MLS, and all three substitutions making a big impact. 
"The game pretty much went according to plan."
If that was the plan without the league's most dynamic attacking duo, one can only imagine what TFC has in store for the rest of the season.