Western Sydney Wanderers
No brother, no problems for Keanu Baccus at the Wanderers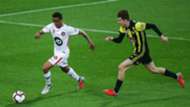 With Kearyn Baccus departing Western Sydney Wanderers in dramatic fashion over the off-season, his younger brother Keanu has quietly continued working hard to nail down his spot in the side.
Having started all three of the Wanderers games this season and picking up an assist for his side's final goal in a 3-0 win over Wellington last weekend, the 20-year-old is shining in his brother's absence.
Considering both brothers are typically deployed in a number six role, Keanu has found himself shouldering more responsibility in midfield this season and hasn't shied away from the extra work.
Against Wellington, the South African-born midfielder completed a game-high five tackles and four interceptions, while his 37 passes were the third most of any player on the pitch.
Though keen to spend another season alongside his brother, Keanu seems to be stepping up and has already set his sights on taking on his sibling later in the season.
"At first it was tough, I wanted to play with him this year and we were both playing six so it was good," Baccus told Goal.
"But things happen in football and they happen quick. It'll be good to verse him this year."
Along with his brother, Keanu also saw former coach Josep Gombau depart at the end of the season.
The Spanish coach gave the then teenager his first taste of A-League action and admits it was hard to see him shown the door so quickly.
"I was a little bit hurt," Baccus said.
"I thought maybe it was a good chance for him to build his squad this year and he had a lot of faith in me so it was hard to see."
Babbel however appears to have the same amount of faith in Keanu's abilities.
"The gaffer put a lot of faith and trust in me in pre-season, I was playing alongside my brother then, but things change quickly in football," Baccus said.
"It was good to roll on into the FFA Cup and to now start three A-League games."
While Brisbane Roar await Keanu on Saturday, the Baccus brothers will face off in Round 10 and you can bet both can't wait for the chance to square off.