African All Stars
Nigerians have no right to castigate Moses, says John Obuh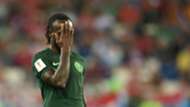 Former Flying Eagles coach, John Obuh has expressed his displeasure with some Nigerians who were castigating Victor Moses' decision to retire from the Super Eagles .
After six years representing the country, the Chelsea star decided to walk away after 37 games with 12 international goals.
However, the decision did not go too well and Obuh has come out to defend the 27-year-old who got a goal for Nigeria in Russia.
"I don't think some Nigerians got it right sending abusive words to Moses because he decided to leave the senior national team," Obuh told Goal.
"We should praise him for all that we have achieved through him and vice versa. This was a player that abandoned playing for the English national team for Nigeria. He had already represented England at the age grade competitions but opted for the Eagles in the senior team.
"It was not a good feeling at all making him an object of ridicule on the social media because he decided to retire. He has done exceptionally well for us and we have had good memories with him."
He noted that instead of the negative outbursts his retirement has elicited, other avenues could be explored to see if he could have a change of heart at least for few more years.
"He might have done his own at 27 but we have had players too that have retired from the national team early," he continued.
"I think Paul Scholes and few others left the senior national team early and heaven didn't fall. We need to commend him for what he has done for us. He didn't say anything untoward in his post on the reason why he decided to quit the national team.
"I still believe all hope is not lost. I believe the coach (Gernot Rohr) has a big role to play in this regard. He could call on him and try to appeal to him if it will be possible for him to have a change of heart."