Transfers
Neville doubts Pickford's ability to replace De Gea at Man Utd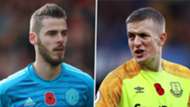 Jordan Pickford has been linked with a £60 million ($77m) move to Manchester United as successor to David de Gea, but Gary Neville has questioned the credentials of a goalkeeper that makes him "nervous".
The Red Devils are yet to agree fresh terms with their undisputed No.1 and will see his current contract expire in the summer of 2019.
There is a 12-month extension clause in that agreement, which is likely to be triggered, but United will need to start planning long-term if no new deal is done with De Gea, who is sparking talk of interest from Juventus and Paris Saint-Germain.
Everton star Pickford is said to be among those on the Old Trafford radar, but Neville has cast doubt over the England international's suitability to the high-profile post in Manchester.
The former United defender told Sky Sports: "I thought he was a risk before the World Cup. It was one of the points I was most nervous about.
"I actually think international football suits him a lot in the sense of the way the team play.
"I think the fact you get more time to play out from the back than you normally would in the Premier League, I think he's suited to international football.
"I was nervous about him before the World Cup but he's winning me over slowly."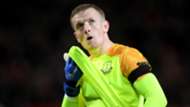 Neville added amid the talk of interest from Jose Mourinho: "He's not my idea of what a goalkeeper would be. I always thought a keeper should be dominant.
"There are so many keepers now of his ilk and his stature and his ability in terms of agility that you have to change with the times.
"I was always of the Peter Schmeichel [style of goalkeeper], the big presence. He [Pickford] doesn't look huge in goal but is agile and does make great saves.
"He doesn't look huge in the goal. He makes great saves."
Pickford became the most expensive British goalkeeper in history when completing a £25m ($32m) switch from Sunderland to Everton in the summer of 2017.
He is only 24 years of age and has impressed in Premier League competition, penning a new contract in September, while also nailing down the No.1 spot with England after helping them to the semi-finals of the World Cup and Nations League.