Super League
Negeri Sembilan to undergo restructuring, rebranding ahead of 2018 season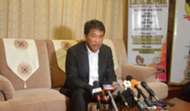 ---
BY        ZULHILMI ZAINAL       Follow on Twitter
---
After spending four exasperating seasons in the Malaysia Premier League, Negeri Sembilan are finally back in the top tier.
At every start to the season in the second tier, they had always been one of the favourites to win promotion, but in the end, impatience and inconsistency would end up scuppering their hopes of a return to the Super League (MSL).
In the end, it took a stroke of luck (as well as preparedness) that allowed them to be promoted. After falling short of promotion yet again at the conclusion of the 2017 season, Negeri were handed their much-awaited return by M-League organiser Football Malaysia LLP (FMLLP), after T-Team FC and Felda United were forced to play in the second tier in 2018. Thankfully for Negeri, they had the foresight to sort out their MSL licence earlier, and was given the all-clear to take part in the top tier in the coming season.
The club now seem eager to make changes in the way they are run at the board level, so as to introduce a higher level of professionalism.
In the 2018 team launching event held in Seremban on Wednesday, the Deers president Dato' Seri Utama Mohamad Hassan revealed several changes that will be undertaken by the one-time MSL champions.
The club, currently run by the Negeri Sembilan FA, are going to be run by a company set-up by the FA, and rebranded, says Mohamad, who is also the Menteri Besar (Chief Minister) of the state of Negeri Sembilan.
"This (privatisation) is one of the licensing requirements demanded by FAM (Malaysian FA) and AFC, whereby all clubs must be run professionally and without direct interference by the FA's.
"The Negeri Sembilan FA will form a limited liability company which will run the club. The company board members may comprise the FA executive committee members, and a chief executive officer and a marketing manager will be appointed. The FA will continue by running the development programme and the state leagues.
"The club's name meanwhile will be changed, tentatively it is NS Football Club. We have received many suggestions for the new name such as NS Rangers, NS United, NS Dynamo. We have to sleep on it and then register the name officially. We want to do this as soon as possible, perhaps before the league kicks off," explained Mohamad.
One aspect that the club want to change is their policy on local and young players. He revealed that although MSL clubs can now sign up to five foreign players, Negeri will sign only one foreign forward in order to allow their local strikers to flourish.
"One other thing that we are looking to do differently this year is by signing two [foreign] midfielders, two defenders and one top striker. We have a number of local top strikers and we intend to let them play, so that the quality of local strikers does not deteriorate due to overdependence on foreign strikers. For example, we have Thana [Malaysia U23 striker Thanabalan Nadarajah] who can be relied upon in the position.
"We too have promoted five of our youth players from the President's Cup squad to the senior side. On top of this, five other youth players have been loaned out. The loanees are not ready yet to play with the first team although they have the quality, and if they stayed here they would simply sit on the bench. It's better that they go out on loan so they can acquire playing time, experience and maturity. This is what we did with Thana, as he was not ready last season. We loaned him out (to Felcra FC) and he has matured there. Now we've brought him back and included him in the first team," remarked the former amateur player.
With all the changes, Mohamad has set two targets for the team; a top-five finish in the league or a silverware. As ambitious as it may sound, according to him it's a modest aim.
"I don't want to aim too high," said Mohamad, "after all it's only our first season back in the MSL after four seasons. And the MSL we are heading back into is not the same MSL that we used to know.
"If possible I want us to capture one title. But in the end I want a top-five finish so we can maintain our performance and momentum.
"Many assume that we will be the whipping boys, let them do so. I believe that with a strong team, a good coach and management we can face any team in 2018."
But despite the changes and the sudden promotion, Negeri have not increased their spending drastically, claimed the Menteri Besar.
"Our spending this season has not risen significantly from last year. In the FA executive committee meeting held earlier, the budget that was tabled showed that the increase is only around ten per cent.
"We don't sign our foreign players through agents and middle men, we contacted the players directly. Their salaries are not steep actually, but they become expensive when agents are involved. The average monthly salary of our (foreign) players does not exceed USD12,000 (around RM48,000) or 10,000, while our local boys are paid modest sums," revealed Mohamad.
Jorg Steinebrunner's men will travel to Cambodia on Thursday to play in friendly matches against Army FC, Phnom Penh Crown and Svay Rieng FV.
They will then take part in a pre-season tournament; Asia Super Cup in Makassar, Indonesia from 19 to 21 January, facing off A-League's Adelaide United, S-League's Home United and hosts PSM Makassar.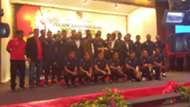 The 2018 Negeri Sembilan squad having their photos taken after the team launch. Photo by Zulhilmi Zainal