Jérôme Boateng
NBA fan Boateng: No one plays better than the Golden State Warriors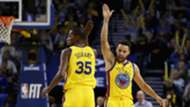 The Golden State Warriors are again strong favourites for the NBA Championship, says basketball fanatic and Bayern Munich defender Jerome Boateng.
Led by Stephen Curry and Klay Thompson, the Warriors earned success in both 2015 and 2017, while they have won the Western Conference in each of the last three years.
Boateng has backed them to add to that run of success as the regular season approaches its finishing straight. 
"For me, they play the best basketball," he told Goal. "They move the ball very cleverly. They have a good vibe in the team I think. That's what you see from the outside. Everybody respects each other, that's a key point.
"They are a team and they are very close to each other; the coach makes a good impression. This is only what I can say from outside. When I met the guys, they were all very nice and cool."
Warriors point guard Curry will captain a team in the upcoming All-Star Game against LeBron James' squad. The NBA moved away from its usual East-West format, with rosters being chosen without regard to conference affiliation.
"I think it's an interesting game for sure," Boateng said. "It looks like Team LeBron is a little bit stronger but you never know."
Boateng is a regular courtside whenever he gets a chance to visit the United States and counts Houston Rockets star James Harden as a friend.
"I've been to a lot of games," he said. "I've been to the playoff Game 7 when Miami won against the Spurs [in 2013]. And I've been to Golden State, the Clippers."
The centre-back says football stars can learn a lot from watching other sports and reveals he has been in contact with the Warriors forward Kevin Durant about how their respective sporting schedules and routines match up.
"I watch it for fun but I also watch it to see: 'Oh this is a tactic.'" he said. "And after the review sometimes you see: 'That was interesting to see how that works in this sport.'
"I asked Kevin Durant how is his day looking, how is the training, what they have to do and stuff like this. They play every day nearly so it is different from our job."
Boateng is a stablemate of Durant at Jay Z's sports agency Roc Nation Sports, which he joined after becoming a World Cup winner in 2014.
Does he see a lot of the CEO?
"Sometimes, yeah," he said. "You know how busy he is. Not every week or every month but I just met him again recently. Of course, he's an icon and it's always great to see him and talk to him about whatever it is – music or sport."