South Africa
Mumble: Safa to expose shady officials in ABC Motsepe League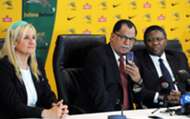 The South African Football Association (Safa) have pledged to take action against several ABC Motsepe League teams for infractions.

The ABC Motsepe League, which is the second tier of South African football, has been marred by allegations of match-fixing and bribery involving some match and club officials in all nine provinces.

Safa's chief executive officer Dennis Mumble has stated that they will name and shame shady officials, who have been involved in corrupt activities.

"We are serious about fighting crime in our football and getting rid of corrupt people," Mumble said on the City Press.

"Without going into much detail, we have already put measures in place to arrest those involved. Our net is closing in on them," Mumble said on the City Press.

"They must understand that failure to report any match-fixing, or attempts to fix matches, will result in sanctions," he added.

"The only problem is that we don't make noise about it. We now need to put everything out there and shame those who are involved."

"We had issues in North West and Limpopo, where fixtures were not followed to the letter. This was a cause for concern for us," he added.

"We have since instructed provincial coordinators to stick to the fixtures as they are aligned to the head office."

"This creates a problem because they have a relationship. What we have decided to do now is take those who have joined clubs out of the system and make our officials aware of this," Mumble concluded.