Muhoroni Youth
Muhoroni Youth ordered to compensate Ochomo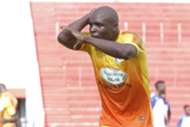 Muhoroni Youth have been ordered to compensate striker Wycliffe Ochomo for irregular suspension.
Kenya Premier League's Independent Discplinary and Complaints Committee has ruled that the suspension slapped on Ochomo was irregular and breach of contract signed between the club and player and thus ordered the sugar millers to pay the player Sh112, 000.
Here is the ruling as published in KPL's official website. "The Kenyan Premier League's Independent Disciplinary and Complaints Committee (IDCC) has ruled that Muhoroni Sugar's suspension of Wycliffe Ochomo was irregular and in breach of the contract signed between club and player.
Muhoroni Youth terminates contracts of banned players
"IDCC has consequently judged that Ochomo was entitled to terminate his contract with Muhoroni "for just cause".
"In its ruling released on Wednesday, the disciplinary body has ordered Muhoroni Youth to pay Ochomo KSh112, 000 in salaries owed for the months of September 2016 to December 2016 during which time Ochomo was under indefinite suspension without salary.
"Muhorono suspended the player citing breach of contract last season. IDCC has also ordered Muhoroni to issue Ochomo with his release letter within the next seven days."