José Mourinho
Mourinho will go to PSG after Manchester United, predicts Phil Neville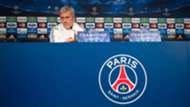 Paris Saint-Germain appear to be "the next step" for Manchester United manager Jose Mourinho, according to Old Trafford icon Phil Neville.
The Portuguese sparked talk of a possible stint at Parc des Princes following his admission to TF1's Telefoot that he does not expect to see out his coaching career at Old Trafford.
He went on to admit, while discussing a recent trip by his son to the French capital, that there is "something special" about Paris, "magic, quality, youth, it's fantastic".
The PSG rumours have since been played down by the 54-year-old, but former United star Neville sees a move to a Ligue 1 as a natural progression for an ambitious and highly successful manager.
He told BBC: "A lot has been made of his comments.
"When he signed for Manchester United, I don't think anybody thought he was going to be at United for 10-15 years like Sir Alex Ferguson.
"I think modern day management now says that three or four years is probably the maximum.
"He's probably just putting a few feelers out there to say in two or three years time Paris Saint-Germain, it's another country that he hasn't been to, another country he hasn't won titles in, and that looks the next step."
Mourinho was quizzed about the PSG links ahead of a Champions League clash with Benfica.
He penned a three-year deal with United upon his arrival in 2016, with that agreement including an option for a 12-month extension.
There has also been talk of fresh terms being tabled, following three trophy successes last season and a Premier League title bid being pieced together this term.
Mourinho, though, told reporters on the issue of his future: "Nothing is happening, I am not signing a new five-year contract and I am not leaving for Paris Saint-Germain.
"I am not leaving Manchester United. I have a contract and that's it."
Mourinho has overseen an unbeaten start to the 2017-18 campaign at Old Trafford, with United making positive progress in Premier League, Carabao Cup and Champions League competition despite having to contend with a lengthy injury list.