Manchester United
'Mourinho talks bull**** and should quit' - Man Utd boss blasted by St Pauli director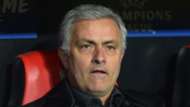 Jose Mourinho has been accused of talking "bull****" following Manchester United's goalless draw with Sevilla and advised to quit by Ewald Lienen if he no longer enjoys the game.
The Red Devils boss was in a typically prickly mood following a Champions League stalemate in Spain.
Having been irked by constant questioning of Paul Pogba's situation prior to the European encounter, Mourinho then faced criticism of his methods during a continental clash.
The Portuguese offered more outspoken comments afterwards, as he sought to defend his tactics and questioned the advice of his medical team, with Lienen less than impressed by what he saw.
Speaking on Sky Deutschland, the former Hannover boss who is now technical director at German side St Pauli said: "If I ever said such bullshit as a coach, I would just quit.
"His [Mourinho's] explanation is an insult to anyone who loves football. If he has enough money but can't be bothered any more, he should just quit."
Despite seeing his side muster just six efforts on goal, compared to Sevilla's 25, Mourinho had said after an uninspiring contest: "The game was even.
"The stats are what it is. Sometimes you have 15 shots, but 13 of them were what I call 'statistic shots', so I really feel that the result reflects what the game was.
"You ask me, 'is it a good result?'. I say, it's not good, it's not bad."
Mourinho also responded to questioning of a free role for Alexis Sanchez and whether he is disciplined enough to contribute to the collective cause by saying: "I think you are all, or many of you, are in a new sport! In England, some guys say the wingers shouldn't defend.
"The next time I see David Beckham I'm going to ask him: 'David, when you were playing right wing at Manchester United, when the opposition left-back attacked, do you stay looking at the stands? Or do you come back with the guy?' I'm going to ask David that.
"And everybody knows that I'm not big friends with Roy Keane or Paul Scholes, but I will ask them: 'When your team lost the ball, did you drop back? Or did you stay walking on the pitch?'
"Because now it looks like all the good players have to play free, and when the team has the ball, which I think is such a stupid thing to say. When a team has the ball, you attack. When the team does not have the ball, you defend."